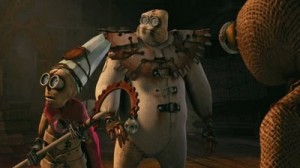 The final, high-def trailer for the upcoming feature "9" is online. Produced by Starz animation in Toronto, this thing looks pretty cool. Lots of celebrity voices, but they seem to have been chosen not necessarily for star factor, but more for their vocal qualities, plus Tim Burton's name is attached, so that draws folks in. The story itself seems not atypical, but it looks good and getsmy hopes up for how it's been handled. I also really like the oversize

d zipper on the main character.
Starz also just revamped their website to coincide with the media push on the film.
There's a lot that's been written online about this project and it's origins. I'll dig some up and throwdown with some linkage.