Press release f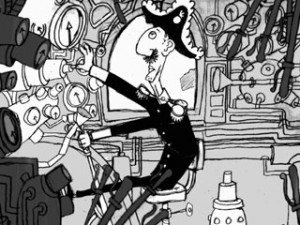 rom the National Film Board:
NFB's RUNAWAY AWARDED THE SPECIAL JURY'S PRIZE AT ANNECY INTERNATIONL ANIMATION FILM FESTIVAL
Toronto, June 15, 2009 – The National Film Board of Canada's animated short, Runaway by Oscar-nominated director, Cordell Barker, was honoured with the Jury's Special Award at the 2009 Annecy International Animated Film Festival on Saturday, June 13.  Barker received this same honour in 2001 for his Oscar nominated animated short, Strange Invaders.
Annecy International Animated Film Festival is wholly dedicated to animation and is the biggest and most recognized event of its kind in the world, often being referred to as the Cannes of animation.
About Runaway
What would happen if the world were a driverless train thundering recklessly over bumpy tracks? Cordell Barker's new short animation, the colourful Runaway, provides a caustic answer. Set to music by Benoît Charest, Runaway is Cordell Barker's third animation film with the NFB. Born in Winnipeg, Barker made his first film, the much-loved musical animation The Cat Came Back (1988), at the NFB. Voted one of the 50 greatest cartoons of all time, the film went on to win over 15 awards and honours, including an Academy Award nomination. His second film with the NFB, Strange Invaders (2002), garnered him a further 15 awards, including a second Oscar nomination. Runaway is produced by Derek Mazur for the NFB. In May, it was awarded the Petit Rail d'Or for Best Short Film in Cannes.  The general public is invited to download and share a copy of the film's embeddable trailer available at http://www.nfb.ca/film/runaway_teaser/
About the National Film Board of Canada
The world changes, our stories live on – that's the National Film Board of Canada's pledge to Canadians as it marks its 70th anniversary in 2009 with a new national online Screening Room and a slate of bold, innovative productions. Canada's public film producer and distributor, the NFB produces and distributes social-issue documentaries, auteur animation, alternative drama and digital content that provide the world with a unique Canadian perspective. In collaboration with its international partners and co-producers, the NFB is expanding the vocabulary of 21st century cinema and breaking new ground in form and content, through community filmmaking projects, cross-platform media, interactive cinema, stereoscopic animation – and more. Since the NFB's founding in 1939, it has created over 13,000 productions and won over 5,000 awards, including 12 Oscars and more than 90 Genies. To watch over 1000 productions online or for more information, visit www.NFB.ca <http://www.NFB.ca> .