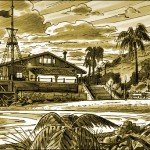 THE ART OF BACKGROUND DESIGN
An 8-week course in Imaginative Drawing for Comics & Animation
with DC Comics and Warner Brothers Animation Artist Paul Rivoche
Start Date: Saturday, July 4th, 2009
• 8 consecutive weeks (3 hours, once per week)
• Time: 1pm – 4 pm
• Location: Bloor Street United Church, 300 Bloor St. West, Room #31 (3rd floor), Toronto, Canada
• Cost: $300.00 plus G.S.T.
• Age Limit: 16+
COURSE DESCRIPTION
Question: What do Herge, Moebius and Jack Kirby all have in common?
They are all masters of creating exciting and credible worlds for their characters to inhabit. If you are interested in developing your ability to draw convincing backgrounds and environments, this is the course for you!
In this course, we will discuss many concepts applicable not only to BG design, but to drawing creativity in general: you will learn how to train your mind, not only your hand. Techniques for development of your observational skills will be combined with practical knowledge about the step-by-step creation of a background design. The overall goal is to enrich the student's creativity, enabling them to add real-life conviction to wholly invented scenes. As time permits, we will discuss related topics such as: perspective drawing • light and shadow • creating the illusion of depth • effective compositions • and more!
*NOTE: Basic observational drawing and a grounding in perspective would be helpful as a prerequisite to taking this course.
ABOUT THE INSTRUCTOR
Paul Rivoche is a veteran freelance comic book artist/writer, animation designer, and illustrator, based in Toronto.
COMIC BOOK CREDITS: Superman, the Spirit, Aquaman, Doctor Fate, and Brave Old World for DC/Vertigo. He has illustrated comic book stories for Batman: Black and White, Legion of Superheroes (Legion Worlds), Sandman Mystery Theatre, and Tom Strong's Terrific Tales (with Alan Moore). He has also done work for Adhouse Books, Eclipse, Vortex, Atomeka and Star Reach. His original character BigDome was included in the fifth Flight anthology (2008).
ANIMATION CREDITS: Paul has contributed key background designs and storyboard art for many projects such as: New Batman Adventures, Batman Beyond, Superman, Justice League, and Darwyn Cooke's "New Frontier" DVD.
http://www.rocketfiction.com
http://www.cartoonistsworkshop.com