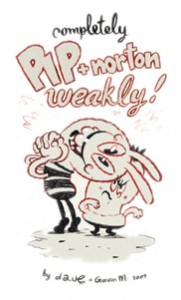 Street Boners and TV Carnage presents Sunday Funnies: Completely Pip & Norton Weakly by Dave Cooper and Gavin McInnes.
Pip & Norton used to be serialized in Vice Magazine, of which Gavin was a founder.  Now it's not so cool anymore and he's moved on to various TV appearances that seem to have dwindled along with his minor celebrity, and this website.  But the great news is that he's reteamed with Dave Cooper (illustrator, painter, comix guy, and sometimes animation type) to bring back their alter-egos.  I love Pip & Norton.  They were, perhaps, my first exposure to Dave's work.  He and Gavin are old friends and come together to make a really sweet-ass comic strip.  There is a collected work of the older Pip & Norton strips out there.  I suggest you pick it up.  Pip's confrontation with and emasculation of James Brolin is worth every penny.
Welcome back.
Update: Just popped over to Dave's site.  Apparently there's also a new Pip & Norton story, Pip & Norton Go to Paris: 8 new pages that will be appearing a french collection of the strips and in North America in the anthology book Mome. Dave has got original art from the book for sale on his site.
Yay!