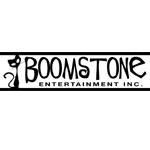 Received a message from Lee Williams, owner of Boomstone Animation in Ottawa over the weekend.
Hey Mike,
Now it's my turn. as of today after 13 years I've put Boomstone on hiatus. The studio was closed today and the equipment was donated. Time to seek something new.
Lee
Boomstone's been around awhile here in Ottawa, I worked with them while at Pip Animation many years ago.  It was originally a partnership between Lee and Rich Vanatte, who had worked together at Lacewood.  Boomstone did  a lot of pre-production work over the years, and had made some moves into Flash.  Last year, Rich left the partnership and returned to freelancing.  There had been some rumours of live-action work, diversification in general.
Boomstone hasn't been too active for the last little while, but it's always sad to note the passing of another shop.
Good luck to Lee in his future endeavours.