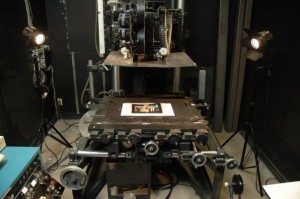 I saw this camera about a week ago when I was grabbing a quick tour of the IFCO offices.  wow.  I learned on one of these monsters back at Concordia in 1993.  The first year student s would get a quick crash course, followed by a lecture that would consist of "If you break the glass, it will cost six thousand dollars to replace and take six months".  Then they'd book us in to graveyard shifts all alone in the building.  Talk about pressure.
Anyone who is really serious about the craft of animation should learn the ins and outs of this piece of equipment.  It will provide you with insight into why you do what you do on your fancy computing machine.
Here's the details:
When: Saturday, July 25th, 2009
Time: 11:00am to 3:30pm
Where: IFCO Animation Suite – Daly Avenue, Arts Court Building – Suite 140
Cost: $75.00 Full members / $85.00 Basic members
Instructor: Diederik Van den Weghe
Registration Deadline: Friday,July 17th, 2009
Please note the listed price includes 4 hours of additional practice time.
IFCO's Oxberry camera and animation stand can be used for filming essentially any 2-D animation, such as traditional cell animation or collage animation. It can also be used to film stills or titles. The camera can be converted to run either 16mm or 35mm film. Camera movements can be made manually or computerised.
Topics to be discussed include:
• basic principles of the animation stand
• preparation of artwork and dopesheets
• table movements and camera trucking
• lighting and exposure
• shooting fundamentals
• fades and dissolves
• loading and un-loading of magazines
• loading and un-loading of camera
Note:
This camera will only be rented to members who have taken the workshop.
Instructor's Bio:
Born in Toronto, but raised in Ottawa, Diederik's interest in film can be traced back to a high-school acquaintance's obsession with making a Super 8 (knock-off) version of Star Wars. The film was never made, but Diederik has been involved in animation and film – on a more or less regular basis – ever since. Starting out as a cel painter on the Raccoons television series, Diederik worked his way up through the technical ranks of various studios in Ottawa, Vancouver and eventually Montreal. Along the way he has shot animated shorts and commercials, as well as title/credit sequences for films, in addition to maintaining much of the equipment he was using. Past projects have included La Vieille Dame et les Pigeons (animation camera operator) and The Old Man and the Sea (integration of electronics). Most recently Diederik has been involved in multimedia projects as well as equipment maintenance at Fake Studio in Montreal.
Enrolment for this class is limited, and will be on a first come, first serve basis. If you have any questions or if you wish to register for this workshop please contact our Membership Coordinator Tasha Waldron at (613) 569-1789 or you can e-mail her at admin@ifco.ca