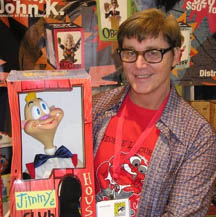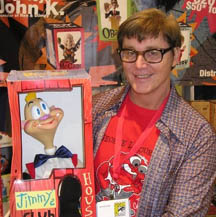 John K has been posting tutorials on his blog for some time now, but it looks like he's getting serious.
Introducing: John K's Cartoon College For Free.
Here John explains his reasons for doing this:
Part of my reason for giving away free training is selfish. The kind of cartoons I make require these skills, and I can't afford to teach them during a production. Cartoon budgets go down every year and so I need people who already understand what I'm looking for and are functional.
I always want to do layouts in my cartoons – it's what separates my cartoons visually from so many others, but layout is mostly not done anywhere anymore. Nowadays, they just design the characters from a couple different angles, take them into Flash and then move the still pieces around like paper doll puppets. I can't make my kind of custom stories and acting using that system.
I need talented and SKILLED people to help. It's worth it to me to help out before a production begins, but it will be up to you to practice and apply and critique yourselves according to what you learn. I will give some critiques and everyone here can learn from each other's studies.
If you wanna be invited to learn all this stuff, then do the lessons that already exist on this blog and if you show lots of talent and dedication, I will invite you to a blog that is dedicated just to lessons and critiques.
I've sent many young artists over to John's blog.  The trick is, you have to do the work.  John is very good at what he does.  There are lots of things that have been said about him, and most are probably true.  He is difficult, he is demanding, he wants things done right.  These traits can be infuriating.  But the thing about John?  He's usually right.  He may not play well in the realities of today's commercial animation industry, but he knows his stuff.  If you do what he says, you'll get good.
Go check it out.