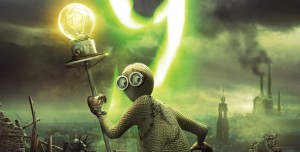 It took a little longer than I expected, but I have a winner of our first ever contest. A few weeks back, I encouraged readers to go out and see Shane Acker's "9", to try to bring some friends, and to write me a review. I didn't expect a flood of responses, my readership isn't huge, but I'm happy to have heard form those of you who took the time to write. Thanks to all of you for your contribution.
Now, going into this, I only had one hard and fast rule that I set for myself. I was going to reward those who clearly identified the film as Shane Acker's, rather than Tim Burton's. And, while I read a few solid reviews, I only got one that gave credit to the director. Yes, it's easy to get mixed up on this, Tim Burton's name is all over the film, and that's a gret way to market it. But it's not his movie. He had far less to do with this than he ever did with Nightmare before Christmas. This is Shane Acker's movie. While I don't expect the general public to know that, I'd hoped my readers would be more up on that bit of info.
So, that leaves Justin Daniel Murphy. Justin wrote a clean, concise review, and he got his facts straight.
"9"
Directed by Shane Acker
Voiced by Elijah Wood, Jennifer Connelly, John C. Reilly, Crispin Glover
CG Animation
Rated PG-13
Runtime: 75 min
Strange mechanical beasts spring forth from a factory to prey on mechanical
dolls wrapped in burlap. With each slaying of a beast, the dolls figure out
a little bit more about their reason for existence. The film plays out like
a new video game for PS3 or XBOX but what makes the film special is its
fantastic use of light and shadow. A rare treat in mainstream CG. If that
isn't reason enough to see it, you should also know it was also made here.
Yes, here…in Canada. The people and the software. Shocking. Do your part
to support it and we'll all be richer in the long run. -JM
Justin, looking forward to hearing about your trip to Ottawa in a few weeks.
Thanks everybody!
m