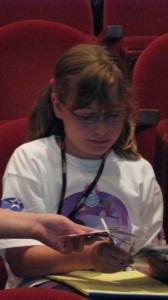 Feels like I'm playing catch up today. This came in about a week ago from the Ottawa International Animation Festival, and it looks like I missed it.
The kids jury and program is one of my favourite parts of the festival. My daughter is still too young, but she's a regular attendee at the screeenings and can't wait to try out for the jury. These kids take the job seriously and really consider their choices in awarding prizes. If you know any young animaphiles who might be up for the job, pass this on.
ANIMATION FESTIVAL ANNOUNCES KIDS JURY CONTEST
The Ottawa International Animation Festival (OIAF) is once again inviting local kids to enter its annual Kids Jury contest. Eight young animation enthusiasts will be chosen to judge this year's competition of short films made for kids and competition for TV series made for kids.
To be chosen for the jury, area youth aged 9 to 14 are invited to write a one-page essay describing why their favourite animated character is the best cartoon ever. Eight lucky winners will be whisked away to the Canadian Museum of Civilization on Saturday, October 17 to watch either short animated films or TV series made for children. They'll pick their favourites and award prizes to the winning filmmakers on stage on Sunday, October 18.
"I am always impressed by the quality of the essays that I receive," says Jennifer Noseworthy, Director of Outreach and Administration for the Festival. "The competition films are often unique, and the jury has always been remarkably appreciative and insightful when making their selections."
Why sit at home watching cartoons, when you can sit at the Canadian Museum of Civilization and watch cartoons? This is a once-in-a-lifetime opportunity so make sure to tell us why you think you'd make a good jury member.
To enter the contest, the one-page essays must be submitted by email (jennifer@animationfestival.ca), by fax (613-232-6315), or by mail (2 Daly Avenue, Suite 120, Ottawa, K1N 6E2). Remember to include your name, age and an email address or phone number where you can be contacted.
The contest deadline is 4:00 pm on Wednesday, September 23, 2009 and the winners will be announced Friday, September 25.
About OIAF
The Ottawa International Animation Festival is one of the world's leading animation events, providing screenings, exhibits, workshops and entertainment since 1976. The annual five-day event brings art and industry together in a vibrant hub that attracts artists, production executives, students and animation fans from across Canada and around the world. In 2008, more than 25,000 people flocked to the capital to take part in the festival. A similar crowd is expected to attend OIAF '09, which will be held from October 14-18 in Ottawa. For more information and to experience OIAF online, please visit www.animationfestival.ca.