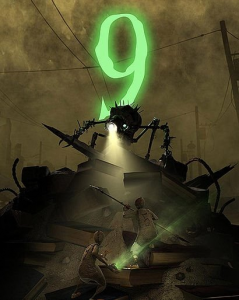 9 comes out today. I hope it's good. Hats off to Starz for making this sucker, and Focus Features for putting some money behind it. That's twice this year an "independent" feature has had decent marketing support (Focus stepped up for Coraline as well). One can only imagine what might have become of Iron Giant had it been given this kind of push.
Reviews have been mixed from within the community, but I've heard more to the positive. Some are saying we may have oour next cult hit on our hands. I'm hoping for a strong opening. The numbers on these smaller, non-disney, non-dreamworks pictures are crucial in terms of assuring us that we'll see more of them. Focus seems to understand a little better than past effforts by folks like the Weinsteins. There's a market for these pictures, it's just taking a little while to find it.
There's tons of stuff online about this movie. Contests, clips, reviews, it's quite impressive. If you want to get in on some of it, go for it. My suggestion is: go see the movie. Bring some friends, perhaps of the non-animation variety. Make your own decision about it. At the very least, it will mean a few more asses in seats, and that gets back to Focus and tells them that this idea they have to support animated films? Not a bad one.
Here's a few links.
Here's Dominic von Riedemann's review over at Suite101, he gives it an 8/10.
Filmjournal review here.
Here's a clip via Attack of the Show: