Last updated on January 8, 2010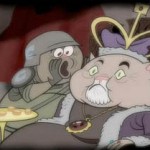 Hey lookee! The showcase page is up and running! This will be where I put films, so if you feel like watching some cartoons, this is where you should go. Anything I can find on YouTube or Vimeo, I'll embed here. So, to get the ball rolling, here's Yellowcake, by Nick Cross.

Yellow Cake from Nick Cross on Vimeo.