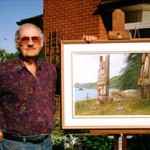 This popped up in a search today.  It's a short post about Vic Atkinson, who used to be a big name in animation here in Ottawa.  Seems Vic paints now.
A few more strokes of the keyboard and I came across Vic's website.  Here's what his "about" section says: Vic Atkinson was born in London, England. He studied art at the prestigious Camberwell School of Fine Art in London under the aegis of many well-known artists. While there he was introduced to the highly realistic style that has since become his own style. He paints in acrylics, egg tempera and oil.
After graduating from Camberwell School of Fine Arts, Vic began a career in the animation and live action film industry as well as designing for the stage.
As a successful artist, Vic has had many one-man exhibitions and has been represented by several galleries, some of which include:
The Manotick Art Showcase Gallery, Ottawa, Ontario
The Canal Gallery, Merrickville, Ontario
The St. Laurent Gallery, Montreal, Quebec
Libby's Fine Art Gallery, Toronto, Ontario
Currently, Vic is represented by Libby's Fine Art Gallery in Toronto, Ontario. Many of his works have found their way into several private and corporate collections.
Now retired, Vic lives in a small village south of Ottawa, Ontario where he continues to paint.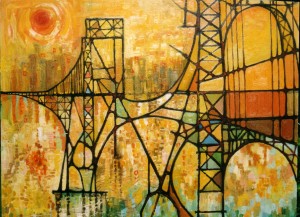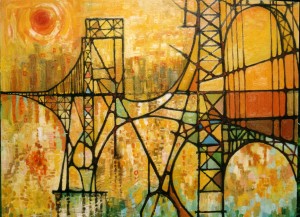 It doesn't say much about his time in animation.  IMDB has a few credits listed:
Heavy Metal (1981) (sequence producer) (segments "Harry Canyon" and "B-17")
The younger readers will likely recognize Heavy Metal, the Racoons, maybe the Wizard of Oz (that was a personal favourite).  The rest haven't seen much screen time in a very long time.  But I used to love the Little Brown Burro.  I remember watching it on the floor of my uncle's basement at Christmas in Virginia when I was a kid.  Strange how I was watching a Christmas special outside Wahington DC, on a major American network,  oblivious to the fact that it had been produced barely fifteen minutes drive from my home in Canada.
Wikipedia had a few things to say about his company, Atkinson Film-Arts:
Atkinson Film-Arts was an animation studio based in Ottawa, Canada, which closed in 1989. The company is best known for the first two Care Bears television specials, The Land Without Feelings and The Freeze Machine, and the four syndicated specials that inspired The Raccoons (as well as first and second season episodes of the show itself). Atkinson also produced the 1978 Christmas special The Little Brown Burro and the 1987-88 series The Adventures of Teddy Ruxpin.
They also worked on the 1981 sci-fi anthology, Heavy Metal and also the "Body Electric" Movie video featuring Rush (band).
The company acquired one of Canada's oldest film studios, Crawley FilmsGraphic Films subsidiary), in 1982 for the price of just C$1. [1] (and its
Some artists at Atkinson who worked on the failed 1986 direct-to-video production, The Meerkats, went on to join Disney's animation department. They are believed to have created Timon, a character from The Lion King, with their earlier efforts in mind.
Not too sure about that last bit.  I wonder if there's anyone out there who could verify?
From what I can remember, Atkinson Film Arts grew out of Crawley Films, the production company owned by Canadian Film pioneer Budge Crawley.  Budge was one of the originators of Canada's animation industry.  He operated a shop here in Ottawa at the same time that the NFB was doing their early magic here.  I believe that Vic was an animator there.  When Budge hit hard times, Vic was able to basically buy Budge out for a dollar and take over the business.
Atkinson was a mainstay in our local industry, and one of the pillars that built it.  Many of the people who would go on to start other companies got there start there.  I believe Atkinson may have evolved into Hinton.  It was a weird path that started at Crawley, then Atkinson, which begat Hinton, which in turn lead to Lacewood, then Amberwood.  I'm not too clear on the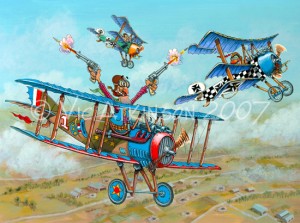 details, this was all mostly before my time, but there are all kinds of stories.
I've always wondered what these guys ended up doing though.  They seem to vanish.  It's very cool to see that Vic is still at it, making art in a variety of styles, including some cartoony stuff.