Last updated on January 10, 2010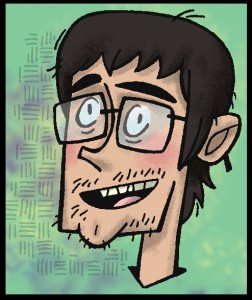 I find autobiographies pretty suspicious, maybe it's the skeptic in me, but I'm always wary of someone's own telling of their life story. The author tends to leave out the petty crimes, broken hearts and embarrassing moments as they construct a rather sunny view of their accomplishments. I will at least go against my nature by keeping it brief.
My childhood was spent as an army brat, moving every 3 years all over Canada and in Europe. I grew up on a remote radar base in Saskatchewan, where we had a few TV channels and little access to radio or movies (it was the mid eighties, did I miss anything?). I drew a lot, and lived in my own head, unknowingly developing some very helpful skills for my future career. After doodling through almost every class in high school, I went to the Animation program at Sheridan College in 1993. I graduated in '96 with the help of a severely shattered leg that kept me in my chair and out of the trouble I had enjoyed causing in my first two years in the program.
My first job in animation came with Ottawa's Funbag Studios, while there I had the opportunity to dabble in key animation (posing), BG Layout, Layout Supervision, design and storyboards. After 4 years I was asked by the company to move to Halifax Nova Scotia and Direct and Manage Helix Animation, which was Funbag's satellite (tax credit grab) studio. The 4 years there I earned a better understanding of budgeting, human resources, production management, production accounting, tax credits, etc. while running shows of layout and posing, as well as designing and design supervising. It was near the tail end of my time at Helix that I lucked into an opportunity to contribute to Nelvana's series of pilots they were producing entitled 'Funpack'. I essentially had the chance to produce my own micro series (5X5minutes) entitled 'Miracle Koala' where I gained some experience with voice recording, music production, sound effects and Foley, colour design and editing on top of designing and scripting the series.
After Helix's closure in 2004, I was hired by Halifax's Collideascope Digital Productions, where I continued to design, supervise and studio manage but this time in a Flash environment. While employed at Collideascope I had some other opportunities to design, develop, storyboard and manage a lot of steady freelance work, so I started the subtly named 'Invisible Entertainment' to process the work that came in on the side. After a particularly busy year at both studios (and the birth of my daughter) I made the decision to pursue Invisible in a full time and exclusive capacity. The last two years have been difficult all over the industry and Invisible has luckily hung in there working on videogame titles and some series work over that time.
It sounds like I've done a bit of everything, and I have, as the saying goes 'Jack of all trades, master of none'. I prefer mixed opportunity to missed opportunity I suppose, and I am thankful for all the lucky breaks I've received in the midst of the tumult this industry offers.
I love this crazy industry, yet for the most part I struggle with the structure and nature of it, the tax credits, broadcasters, producers, and budgets that are as frustrating as they are necessary. I would love to work towards a future where the Animation Artists in this industry are healthy, respected, and compensated fairly. A future where we can produce the dynamic and creative art we've always dreamed of.
Canadian Animation Resources is an important community collective that could hopefully lead to the strengthening of our profession. This type of initiative is important and can only reach it's full potential with the support of the Canadian animation community. I appreciate the opportunity I've been granted to contribute, and I am honored to be part of this effort. ~M
My Studio http://www.invisibleentertainment.ca/