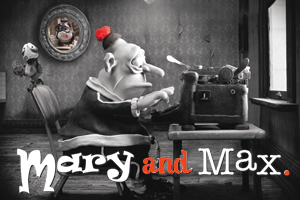 Mary and Max is playing at the Bytowne this week, here's the listing.
Written and directed by Adam Elliot (who made the Oscar-winning short Harvie Krumpet), Mary And Max is filmed entirely in stop-motion animation and narrated by Barry Humphries. The film begins in 1976 with eight-year-old Australian schoolgirl Mary (voiced by Bethany Whitmore and, later, Toni Collette) deciding, on a whim, to write to someone in America to find out whether babies really do come from the bottoms of beer glasses, as her recently deceased grandfather told her.

Picking a name at random from the phone book, Mary ends up becoming pen-pals with middle-aged, overweight New Yorker Max Horovitz (Philip Seymour Hoffman), who is eventually diagnosed with Asperger's Syndrome. They write to each other over a period of twenty years, bonding initially over their shared love of chocolate and a children's cartoon called 'The Noblets'.

The stop-motion animation is beautifully done and Elliot uses colour in interesting ways – the Australia scenes are a sort of nostalgia-tinged sun-bleached brown, while New York is entirely blacks, whites and greys, except for red lipstick and the various objects that Mary sends Harvey through the post, like the homemade red pom-pom he wears on his head. This might sound like a simplistic metaphoric device (Mary bringing splashes of colour to Max's drab world), but it works brilliantly throughout.

The script is excellent and Humphries' narration is so deliciously perfect that the film would work just as well as a 90 minute radio play. Needless to say, it's packed full of great lines and visual gags – particularly all the scenes involving Mary's pet rooster, Ethel.

The voice work is exceptional. Both Whitmore and Collette are fantastic as Mary, while Phillip Seymour Hoffman sounds uncannily like Dustin Hoffman, to superb effect. There's also strong support from Eric Bana as Mary's boy-next-door crush.

Mary And Max is a delight from start to finish – a well written, beautifully animated film that's both darkly funny and deeply moving. Unmissable.

– Matthew Turner, ViewLondon