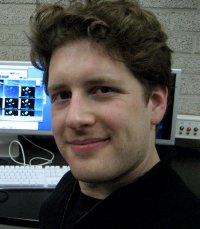 Dominic von Riedemann chatted with Toronto-based animator, Nick Fox-Gieg about his recent surprise win at SXSW over on Suite101, here's an excerpt:
It's the unexpected surprises that are the sweetest. Just ask Toronto-based animator Nick Fox-Gieg, whose short 'The Orange' was the surprise winner of Best Animated Short at the SXSW Festival in Austin. Based upon the short story by Benjamin Rosenbaum, 'The Orange' tells the comic tale of a Christ-like citrus who gains ultimate power.
Suite 101 chatted with Nick about making his short, what he wants audiences to take away from it, and why you should never post your animation on YouTube if you want it entered in festivals.
Suite 101: Congratulations on your win. How does it feel?
Nick Fox-Gieg: "I'm still pretty stunned. I actually left the festival before the awards ceremony, to get back to my teaching job at York University. I mean, what were the odds that a little Flash short would–oops. I'll never make that mistake again. I learned about the win late that evening, via Twitter."
S101: How did 'The Orange' come together? What inspired the short? And how did it get to SXSW?
F-G: "It all started at a party that Malcolm Sutherland had in Montreal in 2004. Everybody was required to bring something to read, and I'd just found Benjamin Rosenbaum's short story online. It was funny, it was thought-provoking, and it fit on one page. When I realized it had the ability to crack up a listening audience, that's when I thought it might make a good short. A year later, I wrote Rosenbaum and got his permission.
"As for how it got to SXSW, I actually uploaded it to YouTube first–probably a mistake, festival strategy-wise, even at this late date. It got half a million views, which was really rewarding, but then most of the festivals I sent it to rejected it. I'm just thrilled that SXSW thought differently!"
Follow the link to read the rest.
And here's the film itself:
Congratulations Nick!