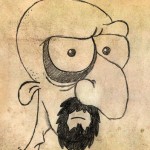 March 9, 2010
Looks like our little list of contributors is growing! Please welcome Ron Doucet. I'll get Ron to give us a proper intro soon, for now, I'm just going to go ahead and yield the floor to him for the first of what I hope will be many contributions to Canadian Animation Resources.
m
Creating an Online Presence
Get freelance work with your online Portfolio & Demo Reel!
Over these last few years, it has become essential for animation artists to look at how the they present her/himself to existing and potential clients, producers, directors and studio heads. I teach at an Arts and Technology college here in Nova Scotia, and I'm always stressing the importance of creating a web presence and the need to have that presence fully laid out by the time a student graduates. When I graduated animation college nearly 11 years ago, a printed portfolio and a VHS of your show reel was all you needed. You'd make 10 copies of each, and spend hours researching the mailing addresses for various studios in the country. Not all studios had a website back then, but you would go to the post office, bundle up your VHS tape and your printed portfolio (the one you spent hours at Kinko's building so the print margins, colours, and coil-binding were just right), and send it out to the studios.
A lot has changed in the last 10 years. It's no longer an option for an animator / story artist / motion graphics designer to not have a website promoting themselves. All film & television production companies have a web presence, so should you!
Regardless of your creative or technical discipline, your website is the foundation of how you are perceived. Even if you are very good at what you do and your work is predominantly in print or as digital video files (pencil tests or movie renders), your online portfolio is usually the first stop of call for people looking to commission or hire you. Since directors and clients can sometimes be a bit nervous about hiring someone purely based upon your apparent skills displayed on some site, a studio head may contact you for a quick design test or an animation test. Can you blame them? Thousands or millions of dollars are on the line. Sure, they may send you a layout test or a character test, but it's worth it, and time may be of the essence, so they usually want your test quickly so they can determine your skill level.
For positions as video game concept artists, the company may have you fly in for a one-on-one interview and a hands-on Photoshop painting test. Studios have you do tests to make certain you can do what you claim, as well as determining your speed.
You need to put all your good stuff on an easy-to-see blog for your employers to view and scroll through. Something, clear, simple, direct, and easy to edit.  Something you can customize.  Something you can easily make different versions of (one focusing on design the other on animation).  Tailor your e-mail based cover letter to have that web address handy and to make sure what you are about to give them is appropriate to the job you're gunning for.
Now this goes for standard 2D and 3D design or animation jobs. Everything here is relevant to any type of animation artist you happen to be. 3D modeling, rigging, special effects, and animation, as well as 2D traditional or Flash/Toonboom/Photoshop design, layout, character animation, BG line art/paint, compositing, etc.
If only there was a way for an animation artist to be able to freely and easily create a website with a resume, portfolio, and a high resolution video with your show reel on it, all contained in one fast and easy-to-build web address.
AH HA! There is! But first you must register to some websites, it will only take 30 minutes, and it's worth it.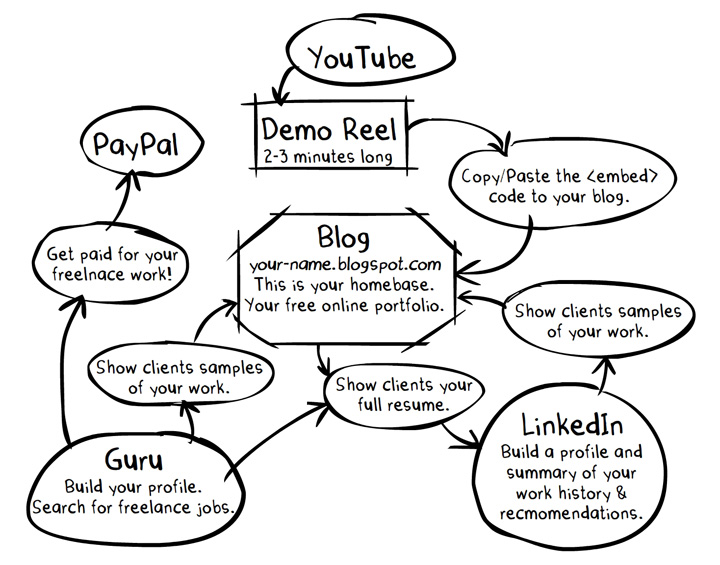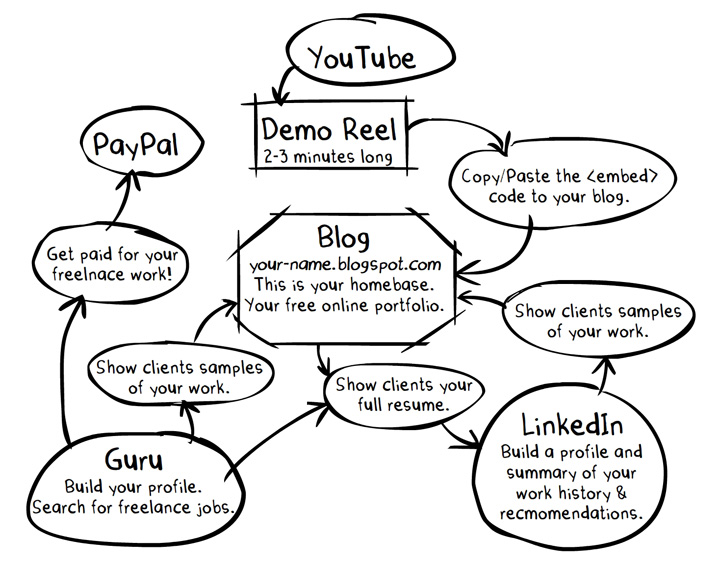 – The five websites you MUST first register for –
YouTube
youtube.com
-Upload your animation demo reel here.
Blogger
blogger.com
-Upload designs and sketches here and embed your demo reel from YouTube.
Linked In
linkedin.com
-Build your full resume here, start making connections with friends and past employers to stay in contact with potential work, place a link of your profile to your blog.
Guru
guru.com
– Click on the 'Freelancers' tab and get registered, display samples of your work by showing clients your blog which showcases your artwork, a link to your demo reel, and a link to your full resume.
PayPal
paypal.com
-The fastest and easiest way for a client to safely pay you directly to your banking account with just an e-mail address.
Go to each one and create a new account (if you haven't already). Try to keep the same e-mail, username, password for all of them, so do you don't forget how to log in later.  I would suggest to create a new Gmail account (gmail.com) to make things easier. These are essential because you can link all of these to or from your blog website (made at blogger.com). Why blogger? Because it's simple! Keep in mind you are not being hired for your web design skills, you are being hired for your visual storytelling skills, your layout/background design skills, your character acting/animation skills, your 3D modeling and rigging skills, or whatever it is you are specializing in. So a very simple website displaying your work is all you need. Your work must speak for itself, whether it's video or just design or storyboard work, keep it simple!
It literally will take you about a half hour to signup to all five of these websites.
Once complete, you have to fill them with content, some will be repetitive, and potentially redundant, but trust me, it's worth it.
– The full breakdown –
YouTube:
Put together a 2-3 minute showreel.
Show you're best stuff FIRST, your second best stuff last, and everything else in-between. Place your name and e-mail at the start and end.
Emphasize your strengths, make sure your demo reel is relevant to the job you want. If you're applying as a character animator don't send your YouTube reel that has all your compositing work. Focus on your strengths, if you are not good at modeling, get stock models and concentrate on animation. If you're strength is 3D character design, don't show off your mediocre animation skills, show the stages and process of your modeling skills. For character animation, show how you can do lip sync and exaggerated character acting, subtle/sentimental acting.
Show some variety, Flash animation, classical animation, Toonboom, and/or 3D clips. If you only have tests and exercises in only traditional animation or only Maya, that's fine, show ONLY the best stuff. A one minute reel with good character acting is better than 4 minutes of all the stuff you've ever done.
Show you can display emotions with subtle facial animation and strong acting principles … it's all in the eyes.
Show diversity with different design styles.
Don't have a slideshow of your life drawings.
Don't do a chronological work history.
Don't include work in progress.
Don't ask for feedback.
Don't include early tests and tutorials.
Remember, your employer sees a lot of demo reels, keep it moving, learn to trim and cut your shots tightly. Only do a slide show of artwork if you are tailoring a demo reel to showcase design and paint work for an employer. Fine art, BG color keys, character color models are fine, but a simple blog could showcase these images in a much better way.
YouTube isn't your only option, Vimeo.com and DailyMotion.com are all healthy alternatives.
More Animation Demo Reel Tips:
http://www.pixarcanada.com/Demo_Reel.html
http://www.animationmentor.com/webinar/replay/20080709carlos/carlos1.html
http://splinedoctors.blogspot.com/2006/01/demo-reel-tips.html
http://mag.awn.com/index.php?article_no=2491&ltype=acrmag
http://www.grafixjobs.com/index.php?option=com_content&view=category&layout=blog&id=36&Itemid=70
Free and easy-to-use software for assembling your show reel together:
VirtualDub –
http://virtualdub.sourceforge.net/
VirtualDub isn't available for Mac but the free program Avidemux has similar functionality –
http://fixounet.free.fr/avidemux/
MPEG Streamclip –
http://www.squared5.com/
Quicktime (Only needed if you don't already have the h.264 codec):
http://www.apple.com/quicktime/download/
iMovie comes free with any Mac computer, it takes a bit longer to learn it, but it's a powerful tool –
http://en.kioskea.net/telecharger/telecharger-1238-imovie-hd
Depending on what Operating System you have, there are many different versions of iMovie –
http://www.versiontracker.com/dyn/moreinfo/macosx/10228
Best formats that YouTube accepts:
* Video Format: H.264, MPEG-2 or MPEG-4 preferred
* Aspect Ratio: Native aspect ratio without letterboxing (examples: 4:3, 16:9)
* Resolution: 640x480640x360 or 853×480 or 1280×720 (16:9)
* Quality: At least 4000 kb/s
* Audio Format: MP3 or AAC preferred
* Frames per second: 24
* Maximum length: 10 minutes
* Maximum file size: 1 GB
How to embed your YouTube Demo Reel into your blog:
http://embedyoutube.blogspot.com/2007/11/how-to-embed-youtube.html
Blogger:
THIS IS YOUR HOMEBASE!
Start uploading your figure drawings, rough character designs, finished & colored character and background designs, and any other of your best sketches, paintings, prop designs, concept art, and illustrations.
Categorize them, organize them, play with the settings and the style of your blog. This is the simplest and easiest way to show an employer your art style and design skills online.
Add a link in the sidebar to your LinkedIn profile (showing your work history and specialties). Or, if you don't really have any connections or industry contacts yet, simply place a short and concise resume in the sidebar with your name and e-mail!
Now add in your YouTube demo reel. Copy paste the <embed> code into a new post and BAM! You Publish it and you're done.
Tips on customizing your blog: http://bloggerfordummies.blogspot.com
As an alternative you can sign up for these free accounts as well:
http://hasaportfolio.com/
http://tumblr.com
Try it out, it may be more in line of what you're looking for, they have their own style and process, with the same principle, upload some content, organize it, and publish it online.
Now you are ready to e-mail a single link (http://yourname.blogspot.com) to any employer via e-mail, and that site will have samples of your work, a point-and-click demo reel and a link to your resume.
Tips on customizing your blog –
http://bloggerfordummies.blogspot.com
– The Importance of a Simple Online Resume –
Included in your blog (it can be in the sidebar or as a separate post or easy-to-find link). In this day and age, it's not just graphic designers and programmers who really benefit from having a simple online resume, it is anyone on a serious job-hunt, including 2D and 3D animators. What's great with today's online technology you don't have to know any HTML code or programming skills or anything (it helps to know a tiny bit) to develop your own simple-easy-to-navigate online portfolio/resume.
I can't stress enough the importance of creating a simple, fast and efficient self-promoting website. Here's why:
1. It shows you go the extra mile
2. It helps you keep yourself organized
3. It makes you more findable on the web
4. You can put it on your business card and in your e-mail message to the employer
KEEP IT SIMPLE
Even if your website is a flashy light-on-dark web 2.0 grunge masterpiece, when it comes down to your actual resume page, you should keep it simple. The information on this page should be as absolutely readable and as accessible as possible and that means dark-on-white and normal sized web text. Remember that your LinkedIn account can have your detailed resume posted, with a list of software specialties, training, full work history, references and recommendations.
LinkedIn:
Fill out all the info on your profile, this is your new online and detailed resume, you can be as in depth as you want, get past employers, co-workers or instructors to recommend you. Once you've signed up for this website, start joining all the relevant "Groups" – Flash Animators, 3D Animators, Graphic Artists, Designers, Illustrators, Video Game Developers, etc. It's like a small and simple version of Facebook but just for professionals and their work.
Registering to this site is a bit more beneficial for when you've completed your first couple jobs, having experience build up relevant to the career you are in helps to fill up your resume with more recommendations and references to build up your value to future employers. You can wait until you have some production work before logging on to this place, it will help you out more once your in the industry with at least a year of solid experience behind you. Most importantly, it helps you to stay connected, make new connections, and stay current with news and info, so I recommend it even for animation students.
PayPal:
Sign up for an account through PayPal, it sometimes takes a few days to register since the company must go through the process to ensure you are actually who you say you are and to verify your information. Once it's complete and all setup, you can request getting paid directly through PayPal for any freelance job from any source, the client or employer need only to have your e-mail to deposit cash securely and directly into your bank account.
Guru:
The top freelance animation/illustration site, make a living searching for and bidding on projects or independent work during your spare time or as a full time job between contracts. There's many freelance-oriented websites for graphic designers, illustrators, CG artists and animation artists of all types out there, and Guru is just one of many. If you are a photographer or purely just a character designer; a Flickr.com account may be all you need to showcase samples of your work online. Guru is not for everyone, and to get the full advantage of this site, you should pay the annual fee, but to check it out first you can always browse through all the thousands of job posts to give you an idea whether this is for you or not.
Search on Guru for work in your chosen field, comb through all the sub-categories and find clients that have jobs for the skills you have. Comic book coloring, e-cards, designs for an animated commercial, storyboards for a music video, logos for an advertising firm, Photoshop effects for some web graphics, 3D models for an online game, the list is endless. Once you have a few successful projects completed your 'Guru reputation' builds up as a reliable source of art or animation, similar to Ebay's positive feedback system.
Here's the tricky part, if you are very serious about cashing in on freelance work, Guru can be very beneficial during those times between contracts, thousands of illustrators out there can make $30,000 per year just doing Guru freelance work. But sort of like Ebay, there can be people out there who will take your stuff and not pay you for it. There's plenty of links on Guru on how to setup your account and how to not get screwed over. Always
There are scumbags out there of all types that will post up a job and will try to swindle you, it could be an e-card in Flash, a Photoshop illustration, a storyboard for a video, a Zbrush model, a pencil sketch for a character design, a quick comicbook flatting job, anything at all. The client will just pay you half then take your finished work and run. So make sure to only hand in 'works in progress' (at low resolution) and make sure you get at least half the money up front before you burn lots of precious time on a design or animation that will be handed over and not paid for. I've known many artists who e-mailed the final artwork or animation but never received the second half of the payment.
To get the full range of all the hundreds of job posts out there you need to pay the annual fees, about $130 U.S. A small price to pay for the money you can make if you dedicate a lot of time to it. The full membership grants you full access to all the job posts in the fields you specialize in. Once registered you will get daily e-mails displaying recent job requests from new posts made in your chosen categories.
***Update all five of these accounts as you get jobs completed, it keeps your demo reel up to date, keeps your resume current and can keep you busy while you find a more full-time & long-term contract in a studio or through online clients/employers. For your actual Demo Reel of course, updating it once per year is usually the standard.