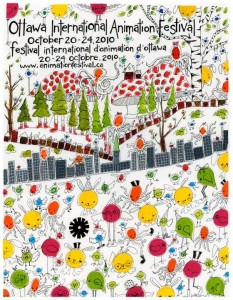 NEWS RELEASE
Ottawa International Animation Festival:  Call for Entries
OTTAWA, ONTARIO (April 8, 2010) – North America's largest animation event, the Ottawa International Animation Festival (OIAF) is now accepting film submissions for the 2010 edition.
Thousands of animators, students and studio executives will fly, bus, drive, sail and walk to the nation's capital from October 20-24 to take part in the 2010 OIAF. The five-day festival is jammed packed with screenings, presentations, parties and the Television Animation Conference (Oct. 20 and 21).
Every year, the best animation from around the world is screened in competition and retrospectives.  More than 2100 entries are received annually, but only 100 will make the cut. Animators are invited to submit their recent work in six major categories including Independent Short films, Feature films, New Media, Commissioned films (TV series, commercials, music videos etc), Student films and Work Made for Children. 
All entries for this year's competition must be received by June 1. The deadline for preview DVDs is June 15. There is no entry fee.
Special screenings included a four-part focus on independent Japanese animation highlighted by a retrospective of legendary animator, Osamu Tezuka (Astroboy); a focus on Czech animation; the best of Bravo!Fact animation; Winnipeg animation; Furniture on my Mind, a look at the use of furniture in animation; Let's Go Crazy examines the long relationship between animation and mental illness; XX in Animation unearths a number of animation gems by female animators.
Additional screenings will be announced in the near future.
For more information about this year's Festival, as well as the online entry form, check out the OIAF website at www.animationfestival.ca.  Questions about submitting a film may be sent to entries@animationfestival.ca or made by telephone at 613-232-8769.