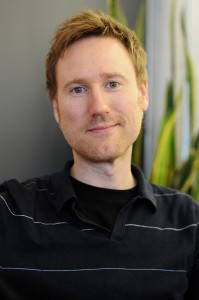 April 26, 2010 – Toronto-based Guru Studio welcomes its latest recruit Aaron Linton to its production team.
Linton, who headed up the Toons division at C.O.R.E. Digital, joins Guru Studio as part of the Justin Time team.
Justin Time is an energetic pre-school show developed by Guru Studio in production for Family Channel and Playhouse Disney Canada.
"I'm very excited to be joining Guru at such a milestone in the company's evolution. It's rewarding to be part of a team with a clear focus on developing its own original content," says Linton, who has been hired as the show's CG Supervisor.
"Justin Time is a fun show with a story-book feel and a fresh, stylized look to it. I'm thrilled to be on board with this project."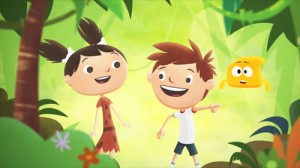 A seasoned director, Linton joins Guru Studio with a wealth of experience, having started in effects 15 years ago before gravitating to animated series.
Linton has directed a number of kids' shows, including Angela Anaconda, The Save-Ums, Franny's Feet and SuperWhy.
"We're very proud to welcome Aaron on board as Guru continues to grow," says Frank Falcone, Guru Studio President and Creative Director. "Aaron brings with him a solid background in top-of-the-line animated series and is the perfect fit for honing the pipeline and workflow as we move ahead with Justin Time."
Linton says he was drawn to Guru Studio for the quality of the work the company produces and the value the company places on creativity and independent vision.
"As well as Guru's animated series, I appreciate the short-film and commercial work the company is doing, and the way management embraces ideas from people in the studio," he adds.
"The environment breeds creativity and the studio is really on the cusp of something in terms of developing original content."
Justin Time is a preschool series that follows the adventures of Justin and his pals Squidgy and Olive as they travel to the most famous places in time and history.
About Guru Studio:
Toronto-based Guru Studio was founded in 2000 with a mandate to create the best and most innovative character-animated entertainment. Celebrating 10 years as an industry leader, Guru specializes in content development, animation and design for advertising, film, television, and other media. Conceived as a boutique studio, Guru has emerged as an independent entertainment company with a clear focus on developing original content. It has recently undergone a dynamic period of growth and creative evolution, and now employs more than 70 talented artists and production staff, all dedicated to creating the best in animated fare for audiences worldwide. The company is in the process of producing its first original series, JUSTIN TIME, for Family Channel, and has also partnered with Nelvana to produce THE NEW ADVENTURES OF BABAR. Projects currently in development include SPACEFACE, a teen comedy cartoon series, AGENCY 13, a preteen action/comedy, and the preschool fantasy adventure series GILBY & HIS GARDEN. Guru has also contributed to the Emmy and Gemini award-winning pre-school series THE BACKYARDIGANS for Nick Jr. and Corus/Nelvana. It has also worked with Corus/Classic Media to co-produce GUESS WITH JESS, a spinoff from the popular U.K. series Postman Pat.(r)