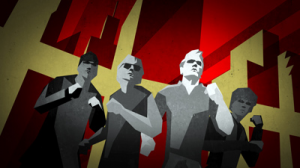 April 28, 2010 – Soviet-era poster propaganda comes to life in Guru Studio's latest animated music video for Crash Karma's hit single Fight.
Produced for The Management Trust and E1 Entertainment, Fight is set to premiere today on Much Music and can be viewed at www.gurustudio.com/karmaLarge.php
"High-quality animated music videos are a rare breed to begin with," says Joel Tellier, who co-directed with Yurie Rocha.
"Fight is unique in the way that it transitions from stylized 3D action into 2D freeze frames to replicate revolutionary poster art."
The poster frames give visual impact to the powerful lyrics and anthem-like quality of Fight, a clip that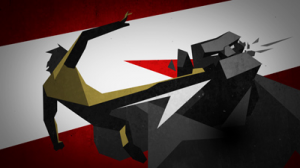 features the band's animated avatars taking on the forces of tyranny and oppression in the form of a rock-like ogre.
"We wanted to capture the translucency of the video's animated protagonists and the feel of paper," says Rocha.
"The song conveys how powerless you can feel sometimes in the face of adversity. But in a rock-paper-scissors match, paper takes out rock!"
In keeping with the Soviet theme, the clip celebrates constructivist design, combining straight lines and hard angles with ominous and iconic imagery.
Canadian rock group Crash Karma consists of former I Mother Earth singer Edwin, ex-Our Lady Peace guitarist Mike Turner, The Tea Party drummer Jeff Burrows and former Zygote bassist Amir Epstein.
The music video is a first for Guru Studio, a Toronto-based animation company celebrating 10 years as an industry leader.
Guru Studio specializes in content development and full-service production for advertising, film, television, and other media.

About Guru Studio:
Toronto-based Guru Studio was founded in 2000 with a mandate to create the best and most innovative in high-quality character animation. Conceived as a boutique studio, the company has recently undergone a dynamic period of growth and creative evolution and now employs more than 60 talented artists and production staff, all dedicated to creating the best in animated fare for audiences worldwide. Guru is in the process of producing its first original series, Justin Time, for the Family Channel and Playhouse Disney Canada. The company continues to expand its services to the advertising market, building strong brand awareness and memorable consumer experiences. It maintains an impressive roster of international clients, including DDB NY, Ogilvy & Mather, Draftfcb Chicago, Leo Burnett London, and others. Guru's short films include Year of the Polygon and Hazed. These have featured prominently at festivals worldwide, including the Pictoplasma Character Design and Animation Festival in Berlin and the Ottawa International Animation Festival.