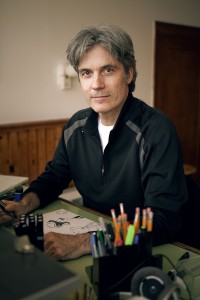 Montreal, April 29, 2010 – The National Film Board of Canada is taking its long-time relationship with animation filmmakerBarker, creator of three NFB animation shorts that are among the most popular in the public producer's catalogue, has signed on as a creative consultant with the NFB's Prairie and North West centres. He will advise NFB producers on animation projects generated in Manitoba, Saskatchewan and Alberta, as well as work from the Northwest Territories and Nunavut. Barker will consult on all genres and forms of animated films and assist producers in discovering and working with emerging and experienced animation talent.
"I'm thrilled to have one of the great animators of the world working with us," says Cindy Witten, Director General, English Program. "His films are artful and fun, and at the same time, socially critical and deeply human. Cordell will bring all the same qualities to our team and our body of work."
"Cordell is a wonderful addition to our production team," says the Centres' Executive Producer David Christensen. "His breadth of experience will not only help the NFB but also benefit the animation community in Manitoba, Saskatchewan and Alberta, as well as from the Northwest Territories and Nunavut."
Cordell Barker's films with the NFB include
Cordell Barker in an exciting new direction. The Cat Came Back (1988) and Strange Invaders (2001), brilliant and hilarious shorts that have together won over 30 international awards and picked up two Oscar® nominations. His most recent NFB film, Runaway (2009), was a prize winner at last year's Cannes Film Festival and took the 2010 Genie for Best Animation Film. Any future film projects that Barker initiates with the NFB will be contracted outside of his new position. About the NFB
Canada's public film producer and distributor, the National Film Board of Canada creates social-issue documentaries, auteur animation, alternative drama and digital content that provide the world with a unique Canadian perspective. The NFB is expanding the vocabulary of 21st-century cinema and breaking new ground in form and content through community filmmaking projects, cross-platform media, programs for emerging filmmakers, stereoscopic animation – and more. It works in collaboration with creative filmmakers, digital media creators and co-producers in every region of Canada, with Aboriginal and culturally diverse communities, as well as partners around the world. Since the NFB's founding in 1939, it has created over 13,000 productions and won over 5,000 awards, including 12 Oscars and more than 90 Genies. The NFB's new website features over 1,400 productions online, and its iPhone app has become one of the most popular and talked about downloads. Visit <NFB.ca> today and start watching.