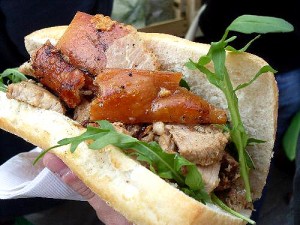 Well,  midpoint of week two.  Things have cooled a bit.  I'm busy trying to nail down the commercial sponsors right now, which will take some time, but I'm hoping to hear back from one or two of you today.  I will go ahead and announce that we've got ToonBoom joining us as a sponsor!  The link will be going up over on the right hand side soon, along with the Toronto Animated Image Society's link.  I want to thank them for helping spread the word in their newsletter this week.  I got my first one, and boy, is it full of good info.  If you're not on their list, I'd suggest it.
Thanks also to the generosity of Andrew Blodgett.  Andrew junped on as a supporter over the weekend, and is part of our maritime contingent.  I've known him for a number of years, and from the sound of things, he's busier than any one person has a right to be.  Thanks Big Show!
So now it's your turn!  Click on the IndieGoGo link and pledge the cost of a sandwich to this fine resource that your eyes are sucking on daily.  Maybe it'll be a really fancy sandwich with Dijon mustard!  Don't have a credit card?  No problemo, contact me directly at mv@canadiananimationresources.ca and we'll sort something out.  Or, if you think you know someone who you think SHOULD be getting on board, like  say, the owner of the studio where you're currently employed?  Go knock on their office door.   Take a look at the sandwich THEY'RE eating.  That's an impressive sandwich, isn't it?  Cibatta?  Probably.  And I bet it's got Chipotle sauce on it or something.  And see that green stuff?  That's not lettuce, that's arugula.
Maybe THAT person would like to support Canadian Animation Resources.  Maybe you should go tell them how awesome the site is, and how you read it everyday and how there's nothing else like it and that it needs support from the animation community to keep going.
mmmmmmm, chipotle.
Thanks guys!
m