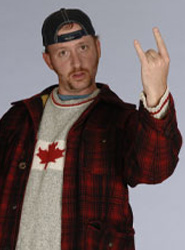 Canada's hardest working voice actor, Christian Potenza (Stoked, Total Drama series, 6Teen, Jimmy Two Shoes, Sidekicks, and more), takes fans and civilians on his daily rounds of the studio circuit as a voice actor for dozens of animated projects and various commercial gigs in his 'Day In The Life' vidblog series. (The thug spelling in the title of this post is mine. I just couldn't resist after finding this gem of a pic. Ah, Google.) Along the way, Christian answers questions from commenters, interviews other cartoon cast members and takes us into Toronto's new rock radio station 102.1 The Edge.

From his YouTube channel:
"I do the voice of Chris McLean on Total Drama, Jude Lisowski on 6Teen, Trevor Troublemyer on Sidekick, plus many other characters on many other cartoons. I'll be uploading lots of cool videos for all you cartoon fans. I will take you behind the scenes of some of the coolest cartoons, interview the voice actors of your favourite characters, plus there will be some really cool stuff coming up that I can't talk about right now so stay tooned! The more cartoon fans we get on this channel, the cooler the things I will be able to share. So tell all your friends and feel free to send me a message whenever you want. I will do my best to reply to as many requests as possible.

Thanks for watching Cartoons!
Christian Potenza
(Chris McLean, Jude Lisowski, Trevor Troublemyer)"
If you're a fan of some of Cartoon Network and Teletoon's hottest shows right now, or if you've ever wondered how to become a voice actor yourself, Christian's channel is a gimme. The first vid's a bit shaky & nervous but the series gets its legs pretty quick once we start meeting crews and get into some interviews. And it's a great way to peek into some of Toronto's busiest cartoon production houses. If you're into geeks, it's practically porn.
Myself, I've often wondered what all of these voices on the natpause actually look like! ('Natpause' is Canuck TV shoptalk for the dialogue track handed out to storyboard artists to work from – Ed.)
What was also interesting was that most of these cast members never seem to meet even though they're often on the same shows. I can tell you that from my experience, comedy cartoons get mad benefit from interplay and banter when two or more characters are recording a conversation. It was nice to see it happening on the first vid. It's just livelier and has a better rhythm – I'm surprised that it doesn't happen more often.