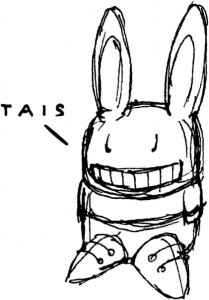 TAIS ANIMATION SHOWCASE 2010 CALL FOR SUBMISSIONS
Deadline: May 14, 2010 – 5:00 pm
The Toronto Animated Image Society is seeking animated films made after January 2008 that are under 15 minutes in length for the TAIS Animation Showcase 2010, taking place on June 24th at the Tranzac Club in Toronto.
All genres, mediums, themes accepted. Artist fees paid for all screened films. No submission fee.
Screeners should be submitted ONLY as either MiniDV or Quick Time Movie files on DVD/CD.
Send your submission to:
Toronto Animated Image Society
TAIS Showcase 2010
60 Atlantic Avenue, Suite 102
Toronto, ON M6K 1X9
CANADA
Please include the submission form, a brief description of the film, an artist bio and contact information, as well as two film stills (tiff or jpg @ 300 dpi ­ 2 x 3). Description, bio, contact info and film stills may be emailed to tais@bellnet.ca or included in submission package.
Submission form can be found here:
http://www.tais.ca/tais_showcase_submission_form_2010.pdf
Toronto Animated Image Society
ANIMATED JAM SESSION 2010
AQUA JAM ­ CALL FOR SUBMISSIONS
Deadline: May 31, 2010
TAIS is at it again with its annual Animated Jam session, or AniJam! This year's theme is… Aqua! Underwater critters and cephalopods, acid rain, flushing toilets, aqua flora and fauna, and any other idea you may have.
Create a ten-second long animated film that somehow encompasses our "aqua" theme! Use any animation technique you want. Submit it to TAIS and we¹ll edit the submissions into an Aqua AniJam film which will screen at the TAIS Showcase at the Tranzac in Toronto this June 24th!
Plus, we've got tons of giveaways!
Submit your films as quicktime files on CD/DVD-Rom, via ftp or link to your webspace with submission form (available on website), a brief bio and two 2 x 3 stills (high res jpeg) from your film. Format of all Aqua Jam submissions should be 720 x 480 Quicktime.
Submission form can be found here:
http://www.tais.ca/AquaJam_submission_form.pdf
Send your submissions to:
Toronto Animated Image Society
Aqua Jam Submission
60 Atlantic Ave, Suite 102
Toronto, Ontario M6K 1X9
CANADA
If you want to submit your film digitally via email in .zip format, via file hosting or via ftp link, send to tais@bellnet.ca
Submission deadline for the Aqua Jam is May 31, 2010.
For more info, visit www.tais.ca or email tais@bellnet.ca
————————
The Future is Now: HD in the Pre-standardized Age
A Community Panel for Animators, Media Art Creators, Producers, Distributors, Exhibitors and Production Centres
May 15, 2010
At the NFB Mediatheque (150 John Street)
2:00 pm ­ 5:00 pm
Free and open to the public
Join us for an interactive discussion about High Definition creation, distribution and exhibition in the pre-standardized-format age.  The panel will feature informed commentary from artists, educators, production centres, distributors and exhibitors regarding the history of previous format paradigm shifts and the issues that need to be addressed moving forward. The aim of the panel is to create a fluid dialogue within the community regarding best practices for current creation and presentation, with an eye towards the distribution and archival issues that current practices may encounter in the (not so distant) future.  Q&A  and an open forum will follow the panel discussion.
Confirmed panel speakers include:
Nick Fox-Gieg: Independent animator and media artist
Kim Tomczak:    Artist and co-founder of the media arts distribution centre Vtape, and Associate Professor of Visual Studies at the University of Toronto     
Jim Hardie:   Sales Executive at Creative Post, Post Production Facilities
Jerrett Zaroski:  former Technical Director for the Ottawa Animation Festival
Event sponsored by TAIS, LIFT, Creative Post and the NFB Mediatheque