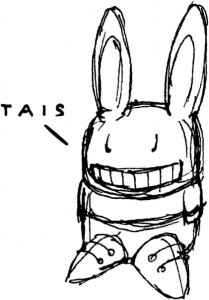 The Toronto Animated Image Society Presents:
The TAIS ANIMATION SHOWCASE, JUNE 24TH
Join us for an evening celebrating the best new animations from Toronto and beyond! Short animated films of all styles and genres will be screened, along with entries from our animated jam session, the Aqua Jam. An event not to be missed!  Awards and reception will follow screening.  An event not to be missed!  Come out and support your local animation scene.
TAIS ANIMATION SHOWCASE
THURSDAY, JUNE 24, 2010
7:30 PM; doors open at 7:00 PM
At the TRANZAC CLUB (292 Brunswick Avenue – off Bloor St. near Bathurst St.)
$8 general admission; $6 for TAIS members
18 +
info: www.tais.ca
Program includes:
"The Orange" by Nick Fox-Gieg
"Everybody" by Steve Reinke & Jessie Mott
"Weenie Wagon Woe" by Willy Ashworth
"I Need an Escape Plan" by Julie Doucet & Anne-Françoise Jacques
"Beneath the Eye of Time" by Madi Piller
"Recipe" by Martha Griffith
"Birth" by Signe Baumane
"Amoeba" by Patrick Jenkins
"The Animator" by Marc Beurteaux
"The Arctic Circle" by Kevin Parry
"Heavenly Bodies" by Mike Weiss
"Nukie Goes Bonkers" by Jonathan Amitay
"William's Creatures" by Pasquale La Montagna
… And so much more!
With installations:
"Thalé" by Barry Doupé
"A Typical Morning for Green and Blue" by Andrew James Paterson
There are some great films showing, including a personal favourite, Arctic Circle, by Kevin Parry!
m