June 15, 2010
The deadline for the In Toon with Tweens contest is is today!  Here's the info again for anyone who's interested in submitting something.  Get a move on!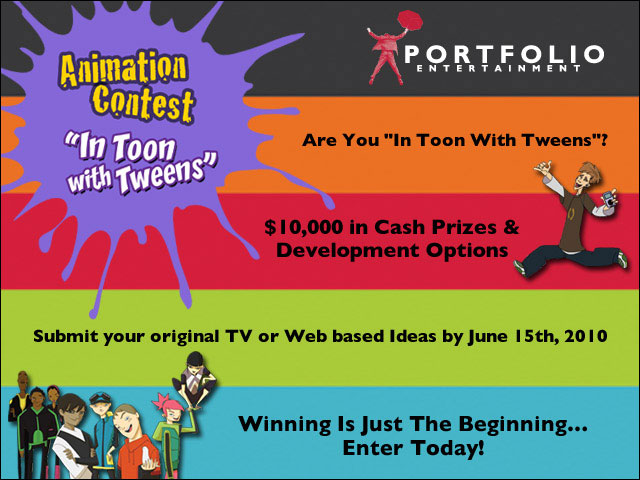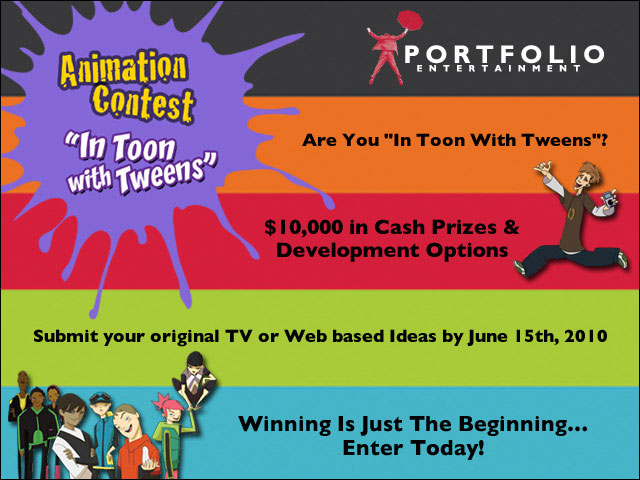 m
PORTFOLIO ENTERTAINMENT ASSEMBLES JURY OF SEVEN INDUSTRY DECISION-MAKERS TO JUDGE FINALISTS OF "IN TOON WITH TWEENS" ANIMATION CONTEST
Toronto, Canada (March 16, 2010) – Portfolio Entertainment Inc. has brought together a diverse and prominent pool of jurors from across the globe to weigh-in on the top 15 finalists and select the winner and runner-up of the company's recently launched "In Toon With Tweens" animation contest. Lending their expertise to select the two most entertaining, innovative and bold projects are Car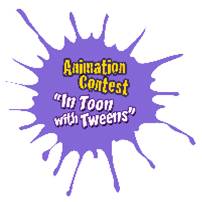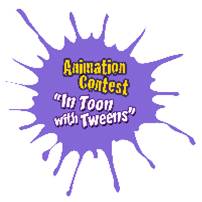 ole Bonneau (TELETOON Canada inc.), Marc Buhaj (Disney Channels EMEA), Rick Clodfelter (Cartoon Network), Jocelyn Hamilton (Corus Entertainment), Linda Simensky (PBS KIDS), Andra Sheffer (Bell Broadcast and New Media Fund) and Shari Cohen (Ontario Media Development Corporation).
Contest prizes total $10,000 CDN in cash as part of Option and Development Agreements and winners will be notified on September 15, 2010.  The announcement was made today by Portfolio Entertainment's Co-Founders & Presidents, Lisa Olfman and Joy Rosen.
"We are thrilled to have such a diverse group of industry experts involved
with our inaugural animation contest. Each juror was chosen for their
extraordinary background in kids entertainment as well as their valuable
understanding of the market," said Olfman.  "We want animators and creators to know that we want to encourage them by providing this opportunity to unleash their creative talents, articulate their distinct visions and gain unprecedented access to the insights of our judges."
Hailing from one of Canada's leading children's broadcasters, Carole Bonneau is VP, Programming for TELETOON Canada inc. where she oversees the acquisition, original production and scheduling strategy for four distinct nationwide specialty television channels, TELETOON English and French, and TELETOON Retro English and French.
Representing the world's most recognizable mouse, Marc Buhaj currently
serves as SVP Original Programming for Disney Channels EMEA overseeing all aspects of Disney Channels Europe, Middle East and Africa's contentincluding Disney Channel, Disney XD, Playhouse Disney and Disney Cinemagic.
Providing support from global powerhouse Cartoon Network, Rick Clodfelter, serves as Director, Acquisitions & Co Productions and is responsible for acquiring pre-produced series, specials, short-form product and series co-productions that fit the Cartoon Network and Boomerang brands.
Representing Canada's leading kids broadcaster, Jocelyn Hamilton, VP,
Programming and Production, Corus Kids, oversees the programming and content strategies for YTV, Treehouse and Nickelodeon in Canada, as well as Nelvana Studio.
Stepping-in to represent the renowned U.S. public broadcasting service,
Linda Simensky is Vice President of Children's Programming for PBS KIDS.  In her role she collaborates with producers, co-production partners and distributors throughout development, production, post-production and
broadcast for existing and new series.
Offering insight from the world of digital media, Andra Sheffer, Executive
Director for Bell Broadcast and New Media Fund manages three private funds supporting the Canadian television and new media industries: the Bell Broadcast and New Media Fund, the Independent Production Fund, and the COGECO Program Development Fund.
Rounding out the panel of judges, Shari Cohen, Program Consultant for
Ontario Media Development Corporation, brings decades of animation
production and entertainment law experience to the table.  Currently, she
specializes in facilitating the development and production of creative
content for screen-based delivery platforms through programs such as the
OMDC Screen-Based Content Initiative and the new Intellectual Property Fund.
The "In Toon With Tweens" animation contest is an initiative designed by
Portfolio Entertainment to encourage creativity and out-of-the-box thinking
by throwing the doors open to new voices within the global animation
community.  Animators and creators with serious comedy chops are invited to submit their original television or multiplatform projects targeting kids 8
to 12 years old for a chance at $10,000 CDN in cash as part of Option and
Development Agreements.  Entries must be received by June 15, 2010 and
winners will be notified on September 15, 2010.  Complete guidelines,
eligibility requirements and instructions for submission can be found online
at www.portfolioentertainment.com/contest.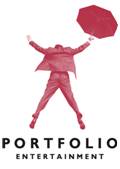 ABOUT PORTFOLIO ENTERTAINMENT, INC.
Founded in 1991, Toronto-based Portfolio Entertainment is one of Canada's
leading independent producers and international distributors of
award-winning television programs for kids, tweens, teens, and adults.
Co-Founders Lisa Olfman and Joy Rosen's commitment to creative excellence and solid domestic and international relationships have propelled their programs onto the world's most prestigious television networks. The partners have won numerous television industry awards internationally and they consistently rank in Profit Magazine's W100 list of Canada's Top Women Entrepreneurs. Portfolio Entertainment's newest series is, The Cat In The Hat Knows A Lot About That!, based on Dr. Seuss' iconic Cat character.
Portfolio Entertainment's distribution division has an ambitious, eclectic
catalogue of over 2,000 episodes of programming as well as access to some ofthe world's most established broadcasters and emerging new players.
Portfolio Entertainment is located on the web at http://www.portfolioentertainment.com/