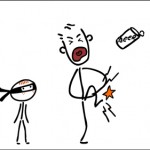 This came in from our friends at Quebec-based Little Animation:
Wednesday, June 9, 2010, Chicago & Montreal—The ultimate Father's Day viral animation is being released Monday, June 14th, on YouTube in the hopes of providing an answer to the age old question, "Why is Daddy crying?"
Creator and director of the My Life ME tv series, JC Little of Little Animation has teamed up with popular "daddy-blogger" Justin Lyons of WhyIsDaddyCrying.com to create a three minute animated short that takes a humorous look at fatherhood. At the mercy of his ninja son, his aspiring-princess daughter, and his apparently disinterested wife, "Daddy" seems to be on the verge of tears throughout the piece. But what actually makes him cry may surprise you.
"I can't resist a good story and this one came to me after reading Justin's hilarious blog," recalls Little. "I was struck by the universal quality of his parenting experience; a lot of folks relate to it, including me. If it touches people, makes them laugh or cry, if they recognize themselves in it, then it's meaningful. And to me, meaningful is inspiring."
The animated short, appropriately titled "Why is Daddy Crying?" was written and directed by Little and features original music by Oisín Little, with voice-acting by Colin Pearson.
Tackling topics such as the Snuggie's impact on a couple's sex life and a father's touching death threat to his daughter's future aspiring boyfriends, Chicagoan Lyons is not afraid to cover any family topic on his blog. On occasion, he will even step outside the family box and ponder "The Top 10 Things BP Should Shove Up It's Leaky Oil Pipe" and recount discussions with his wife on various topics like Justin Beiber and pointy bras.
"I'm humbled to have JC put together such a funny, well-produced short that so perfectly captures the insanity that is my family," said Lyons.
JC Little is a mom of three, and a director who's passion is engaging viewers on an emotional level through her Montreal-based company Little Animation. Her 27 year career has spanned commercials, features, new media and TV shows. She has just finished creating and directing her own tween-targeted manga TV series for Teletoon, France 2 and Canal J, an animated comedy called My Life ME which was nominated for a Kidscreen Award 2010. Recently acquired by Classic Media, My Life ME will air in September 2010.
Stay tuned for the June 14th launch of the blog-inspired "Why is Daddy Crying?" on Little Animation's YouTube channel http://www.youtube.com/littleanimation.