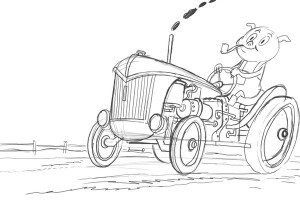 There's only 4 more days to go to support Nick Cross' latest film, "the Pig Farmer".  Nick is using IndieGoGo to raise some funds for his film.  So far, he's raised $2736.00 of his five thousand dollar goal.  If you're a regular reader of this site, you'll be familiar with Nick's work and my bias regarding it.  I'm a huge fan, and really believe that Nick's doing some of the best cartooning out there.  He has such an understanding of the language of cartoons and uses it to draw in his viewer, disarming us, then slapping us in the face with with the three-fingered glove he's wrapped around his message.
On the site, Nick explains: All of my previous films have been completely self-financed, with a consequence being that they must take a backseat to commercial work which pays the bills. Thusly, I'm hoping to try some alternate means of financing, this being one of them.
My films to date have enjoyed a wide audience through international film festivals as well as on the internet and I am hoping that this film will be no different.
So, here's your chance to help make the magic happen. Help bring this cartoon to life by becoming a funding partner today!
And goes on to discuss how the funds will be used: These funds will finance the actual hands-on production of the film, as well as print costs for the completed film to be transferred to tape, or perhaps 35mm film if full financing is reached.
Click here to go and check out Nick's IndieGoGo page, and throw a few bucks at what promises to be another amazing cartoon by one of our top talents.
You can also follow Nick's progress on his production blog, here.