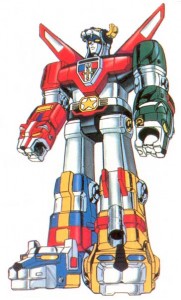 Here's the press release from yesterday regarding the relaunch of the giant-robot adventure show Voltron:
Animation prodco World Events Productions (WEP) and Classic Media are teaming to re-launch the Voltron brand in celebration of the 25th Anniversary of the original Voltron series, which first aired in 1984. Effective immediately, Classic Media will helm international distribution and worldwide merchandising and licensing for Voltron.
The re-launch is headlined with an all-new animated television series, Voltron Force, scheduled to debut on Nicktoons in 2011, with WEP and Classic Media producing along with Hollywood production company Kickstart Productions.
Voltron Force will follow a group of new space explorers on their chance to battle alongside the original group of heroes led by Commander Keith in the Black Lion and Allura in the Blue Lion. The new series will consist of 26 half-hour episodes of 2D and CGI animation.
Additionally, Mattel is developing a new line of Voltron toys that will appeal to adults who grew up with the '80s series, as well as a new generation of fans that Voltron Force will create.
As it says, the show is being produced through Kickstart Productions in LA.  They're a very comics-oriented company, having produced all kinds of comics-related content, including Wolverine and the X-Men and Mike Migola's Amazing Screw-on Head.  They're teamed up with Vancouver's Eh-Okay Productions, who refer to Kickstart on their website as their "sister company".
Eh-Okay has brought on John Delaney to direct and are currently crewing up for pre-production, animation is being handled overseas.  John directed Chaotic at Bardel a few years back and has worked in comics for years on Justice League Adventures for DC and Futurama for Bongo Comics.