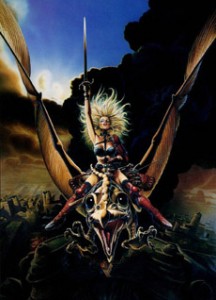 This could be interesting.
'HEAVY METAL' (1981) was the first cult classic animated film directed, more-or-less, and released in Canada – although the money to produce it came from American investors ('Rock N Rule' was released two years later). Montreal-based Bunbury Films is in production on a documentary that is covering the production of the film which will be hitting its 30th anniversary next year. Here's the trailer:
It might be a bit much to ask, but I hope they have some shots of HM director Gerald Potterton's earlier films, from when he had his own studio running in Montreal before producer Ivan Reitman came along with HM. It'd be great to see how Potterton was chosen for the gig, as his previous approaches were just about as far as you could get from 'HEAVY METAL'. Although, I'm sure all those Oscar nominations that Potterton earned had something to do with it.
I'm also hoping they do a decent job covering the half-dozen production houses that animated the differing sequences –  Haines-Cameron in Gatineau**, Atkinson Film-Arts in Ottawa*, Boxcar Films in Montreal*, Potterton's gang (also in Montreal)* along with Halas & Batchelor*, Votetone** and TV Cartoons in London, England.*
There was a lot of sweat-equity that went into this crazy film, and a lot of ripples in Canada's nascent commercial animation industry afterwards. It must have been a fun time to be working – there was this, then 'ROCK 'N' RULE' to be released by Nelvana in Toronto – everything was up for grabs. The Care Bears wasteland hadn't happened yet, and all hinged on the hope of these offbeat films succeeding. We know what happened, of course, but there must have been a moment when an entire industry held its breath on opening week.
It'll be interesting to see how the Bunbury boys choose to portray 'HEAVY METAL's creation – 'cause it rocked pretty hard, right? RIGHT on. {guns a brewskie}
* 'Cartoon Capers: The Adventures of Canadian Animators' – Karen Mazurkewich, p. 101-102.
** IMDB Pro Listing