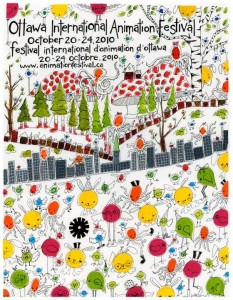 Kids to judge films and TV shows made for them
Ottawa, Ont. (August 24, 2010)–The Ottawa International Animation Festival (OIAF) is inviting local kids to enter its annual Kids Jury contest.  Ten animation enthusiasts, ranging from the ages of 9 to 14 years old, will be chosen to judge this year's competition of short films or TV series made for kids.
To be chosen for the jury, local kids are invited to write a one-pager describing why their favourite animated character is the best cartoon ever.  Ten lucky winners will be whisked away to the Canadian Museum of Civilization on Saturday, October 23, 2010 to watch either short animated films or TV series made for children.  They will pick their favourite films or TV shows and award prizes on stage to the winning filmmakers on Sunday, October 24, 2010.
"We are always delighted to read kids' perspectives on their favourite cartoon characters.  Writing an essay gives these kids an opportunity to put their thoughts down on paper and gain a better understanding of a jury's role when judging a film or TV show," said OIAF Managing Director Kelly Neall.  "Why sit at home watching cartoons, when you can sit at a spectacular venue like the Canadian Museum of Civilization and watch cartoons there!" added Neall.
To enter the OIAF's Kids Jury contest, the one-pagers must be submitted by e-mail: info@animationfestival.ca, by fax: (613) 232-6315, or by regular mail: Ottawa International Animation Festival, 2 Daly Avenue, Suite 120, Ottawa, K1N 6E2.  The kids must include their name, age and an e-mail address or phone number where they can be reached.
The contest deadline is 4:00 p.m. on September 24, 2010.  The winners will be announced at the OIAF News Conference to be held during the first week of October.
The OIAF is also offering other activities for kids and teens at this year's Festival including: free animation workshops and special screenings.  Kids and teens can get more information by visiting the OIAF's Toon Apprentice website: www.toonapprentice.ca.  Toon Apprentice is an educational resource aimed at teaching kids, teens, their parents and their teachers about the world of animation.
About OIAF
The Ottawa International Animation Festival is one of the world's leading animation events, providing screenings, exhibits, workshops and entertainment since 1976.  The annual five-day event brings art and industry together in a vibrant hub that attracts more than 27,000 artists, production executives, students and animation fans from across Canada and around the world.  OIAF 2010 will be held in Ottawa, Ontario from October 20 to 24.  For more information, please visit: www.animationfestival.ca.