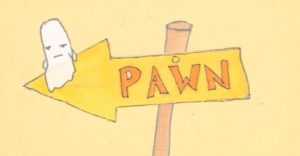 This Winnipeg animation indie artist has some interesting stuff on her site and Vimeo channel. I liked her film 'FAIR TRADE' so much I just had to ask her the patented '8 Second Exposure' and she was kind enough to respond.
Don't forget to catch more of Leslie's work at this years Ottawa International Animation Festival as part of the 'Improvised Art Explosions or Cheap Skates: Winnipeg DIY Animation' screening.
First, the film:
1) Name? Leslie Supnet
2) Where ya from? Winnipeg, MB Canada
3) Where did the inspiration for this piece come from? I was thinking about the concept of nostalgia, and how much weight it carries in material things. I imagined a girl purging herself of this burden in order to transform her identity.
4) What governed your choice of media? Time. I was working with a deadline, so I animated using After Effects and scanning my drawings.
5) Whatcha doin for money? I do administration work at Guppy Graphic Design in Winnipeg.

6) Where can we see more of your stuff? www.sundaestories.com

7) Future plans? I'd like to continue to animate and draw, and to combine these with performance relational art into my practice.
8 ) Is Portage & Main (the windiest corner in North America) all it's cracked up to be? Pedestrians are not allowed to cross Portage & Main. The only way to do this is through an underground walkway (part of the Winnipeg Walkway). It is rumoured that before the walkway was built in many have been whisked away from this corner never to be seen again.
Best wishes,
Leslie
So there you have it, folks. Another fine addition to the OIAF lineup this October. If you or anyone you know is hitting it out of the park and posting animated films online (and happens to hail from Canada) drop us a line and we'll drop the '8 Second Exposure' on them.