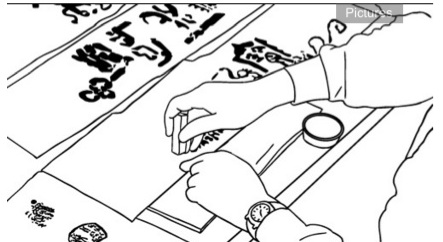 "Award-winning filmmaker Marie-Josée Saint Pierre directs this beautifully animated and poetic homage to the work of acclaimed Japanese calligrapher Gazanbou Higuchi."
Screening at:Frame x Frame
Director's Bio (from her website):
Marie-Josee Saint-Pierre was born in Murdochville, Québec, in 1978 and is a French Canadian filmmaker based in Montréal, Canada. Saint-Pierre has a B.F.A. Honors in Film Animation as well as an M.F.A. in Film Production (Concordia University).
The award winning director and film animator has directed several short animation and documentary films including POST-PARTUM, MCLAREN'S NEGATIVES and PASSAGES.
Saint-Pierre's documentary work shows new approaches in documentary film, blurring the lines between documentary and drama.
She is currently directing a new feature animated film in Montréal called FEMELLES and also is in development with the National Film Board of Canada for the projet MONTRÉAl JUTRA.
She founded MJSTP Films, an animation and documentary production company in 2004 (www.mjstpfilms.com). Overall, her work has been screened in prestigious festivals all around the world and received many awards including a JUTRA. She has been lecturing on the art of animated documentary in Europe, Asia and in Canada.
Directors' website:
http://www.mjstpfilms.com/
Interviews with the Director: