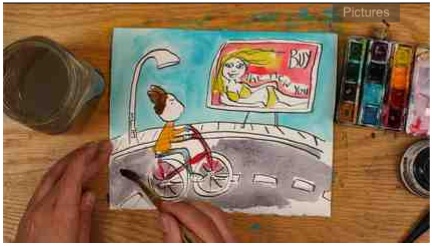 Flawed
Andrea Dorfman, 2009, 12 min.
"Combining colourful storyboards and lyrical narration, acclaimed filmmaker Andrea Dorfman reminisces about her own budding romance with a plastic surgeon. When his profession leads her to focus on her own perceived imperfections, Andrea is forced to confront feelings about both herself and her boyfriend's job."
Screening at:CBC Atlantic Shorts Gala
Director's Bio (from her website):
I am an artist and filmmaker and I've made experimental and dramatic short films, two feature fims – Parsley Days (2000) and Love That Boy (2003) – as well as a documentary, Sluts (2005). I'm currently working in animation at the National Film Board of Canada and developing my third feature film, Harmony, with screenwriter, Jennifer Deyell. I sometimes teach film and video at the Nova Scotia College of Art and Design and I'm one of 4 co-creators of Blowhard, a thematic storytelling series. I live in Halifax, Nova Scotia, with a cat, a dog, some fish, my boyfriend, Dave, and (half of the time) his kids Max and Sydney.
Director's websites:
http://www.andreadorfman.com/