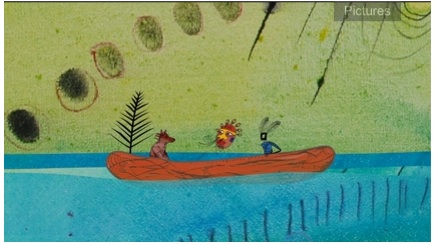 Little Thunder
Alan Syliboy, Nance Ackerman, 2009, 3 min.
"This animated short inspired by the Mi'kmaq legend The Stone Canoe explores aboriginal humour. We follow Little Thunder as he reluctantly leaves his family and sets out on a cross-country canoe trip to become a man."
Screening at: Atlantic Shorts 5
Director's Bio (from her website):
Nance is co-directing and collaborating with world renowned Mi'kmaq artist, Alan Syliboy (redcrane.ca) as well as working with her partner, Jamie Alcorn on the soundscape of this animated short featuring Syliboy's visually intoxicating artwork. Animated by Paton Francis, produced by the National Film Board and commissioned by APTN, Little Thunder is a coming of age story of nationhood that will be featured at the 2010 Olympics in Vancouver.
Director's websites:
http://www.nanceackerman.com/index.html