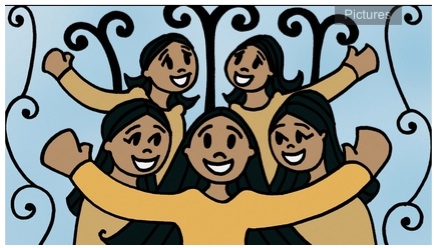 "Waseteg is the story of a young Mi'gmaq girl who finds solace in nature and dreams of the stories she's heard in the village. One of them is about the Mysterious Boy who lives across the river with his Grandmother. Waseteg creates a cape of bark, and through the healing process of Creation, gains the ability to see him. Waseteg is narrated by legendary filmmaker, Alanis Obomsawin."
Screening at: ViewFinders Shorts programme
Director's website:
http://www.warmtoastcafe.com/art/phyll/
Director's Bio (from CBC Radio 3):
Phyllis Grant is a Mi'gmaq artist from Pabineau First Nation, New Brunswick, Canada. She lives there with her three beautiful children and loving husband of sixteen years.
Her artwork was exhibited in Canada at the Art Gallery of Southwestern Manitoba (2007), and in the US with Honor the Earth's "Impacted Nations" which toured New York City, Minneapolis, Santa Fe, and Chicago (2005-2008). Her work is currently exhibited with "Irréductibles Racines " -an exhibition partnered with Le Congrès Mondial Acadien 2009.
Phyllis is also a rap and spoken word artist, and was nominated for an East Coast Music Award (Industry) in 2004. In 2008, her first solo cd titled "Up Risin'" was nominated for a 2009 ECMA.
She feels the implementation of art, music and writing -as progressive forms of expression- lead to a resurgence of cultural and spiritual understanding. Her contemporary observations connect and celebrate the people in her community with the patterns, swirls, forces and beats that exist in nature. She believes her Mi'gmaq culture is alive, breathing, living, thriving, contemporary, and vibrant!
She is a Canada Council grantee for Writing and Publishing ("N'tawti'm" – My Path), and a multiple grant recipient of The New Brunswick Arts Board.
In 2006, she directed her first film, "Maq and the Spirit of the Woods", which was narrated by her father, Gilbert Sewell, and produced by the National Film Board of Canada. It was selected and screened at several festivals, including the imagineNATIVE Film + Media Arts Festival in Toronto, Terres en vues / Land InSights festival in Montreal, the American Indian Film Institute's Film Festival in San Francisco, the Chicago International Children's Film Festival, and National Geographic's "All Roads Film Festival" in Los Angeles and Washington DC.
Phyllis's work is also featured in Pearson Canada's "Literacy In Action" textbooks, launched Autumn, 2007.
Her second animated film with the National Film Board of Canada titled "Waseteg" is narrated by Alanis Obomsawin. It is in preparation for a fall release (2010).
Phyllis enjoys sharing and teaching "Drawing In The Four Directions" with her community. The art class is designed for individuals of all artistic levels who wish to awaken or re-awaken the artist within through mandala creation.
Phyllis is also one of 15 artists across Canada who designed and painted a 6 foot Coke Art Bottle for Coca-Cola Canada's "Aboriginal Art Bottle Program" for the Vancouver Olympics 2010.
Latest News: Phyllis is currently working on an independent animated video for "Mourning Cloak". (Aug, 2010)