showcase: 'Death Buy Lemonade' – Kyu-bum Lee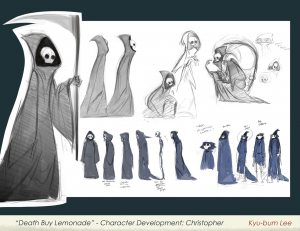 Talk about asleep at the wheel – posted last week at Cartoon Brew as part of CbTV's Student Film Festival, Kyu-bum Lee's Sheridan graduate film 'DEATH BUY LEMONADE' (2010) is a must see.
I caught it at Sheridan's student screening in May and loved it. Hats off to the Brewmasters for taking the initiative to get his work on as many screens as possible. The CbTV Student Film Festival is a great idea. Check it out here.
In that same spirit of getting MORE people to see this film, we're gonna put up Kyu-bum Lee's 'DEATH BUY LEMONADE' here, and encourage you to check out his blogs here and here: