Last updated on October 2, 2010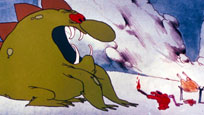 Written & storyboarded by Don Arioli, the 'Mike Maltese' of the NFB in the 60s to the 80s, animated & directed by Zlatko Grgic, a Zagreb animator imported over during NFB's sponsorship era.
The 'sponsorship era' refers to the time that most, if not all, government Public Service Announcements (PSA) were done via the NFB – often resulting in hilarious films that were about truly boring subjects. My favourite era of the NFB, personally.
From Karen Mazurkewich's book 'Cartoon Capers: The Adventures of Canadian Animators' (McArthur & Co.):
"…Arioli quickly asserted himself as the government's court jester. He became the ultimate pitch man of the 60s and 70s. Arioli drew and performed every concept for the NFB's clients […] On more than one occasion, Arioli would sketch a storyboard on the train going to Ottawa, and revise it on the train back. His inability to meet deadlines would drive Koenig [the producer] mad – but not mad enough to dump him. Some of the NFB's best ideas were born on that Montreal-Ottawa track." (p.53)
"'The NFB was set up by Grierson [NFB's commissioner] in such a way that the arrogant artist and the blockhead bureaucrat were pitted against each other."says influential storyboard artist Don Arioli […] Whenever they could, animators tested their clients' limits. Arioli joked that as a government-financed film studio, the NFB got away with many tricks because it already had a 'Fuck You' budget to spare. A private organization could not have pushed through the jokes and ironic script without losing all its backing." (p.52)
"Zlato Grgic, a talented Yugoslavian filmmaker, was recruited by Verrall and Koenig after they saw his film 'SCABIES' a dark parable accurately foretelling the collapse of the Soviet empire. He worked on several shorts including Don Arioli's storyboard 'HOT STUFF'.
Some clever improv by Gerald Budner and Grgic turned Arioli's funny layout into a little masterpiece. It all started in the studio session when Budner, an animator himself, began ad-libbing voices for the snake and the cat. Arioli got a bit annoyed with Budner's banter, but Koenig loved the asides and insisted they remain. Grgic had complete freedom to improvise. The cat never interacts with the main character because it never existed in the layout. […] The fantastic collaboration with Grgic led to a large-scale collaboration with Zagreb Films, the Yugoslavian production company where he worked." (p.57)

'Hot Stuff' won a Canadian Film Award in 1971.
oehttp://www.nfb.ca/film/hot_stuff/