Last updated on September 2, 2010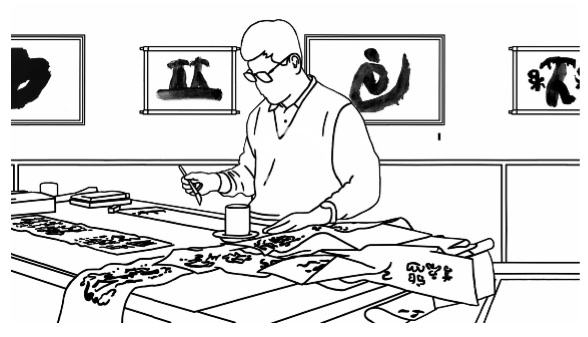 'LE PROJET SAPPORO (THE SAPPORO PROJECT)' – Marie-Josée Saint-Pierre, Japanese, 5 min.
"This poetic homage to calligrapher Gazanbou Higuchi utilizes Marie-Josée Saint-Pierre's signature style of rotoscope animation to illustrate the craft of Japanese shodo. Energetic brush strokes pulsate into moving forms, connecting the artist to his work in a seamless flow. Morphing minimalist black and white compositions fulfill Higuchi's mission to "convey the dance and rhythm of life."
Director's Bio:
Marie-Josée Saint-Pierre was born in Murdochville, Quebec. She earned a B.F.A. in film animation and an M.F.A. in film production from Concordia University. She has directed several short animation and documentary films, including Post-Partum (04), McLaren's Negatives (06), Passages (08), which screened at the Festival, and Le Projet Sapporo (10).
Screening at:
Short Cuts Canada: Programme 6
Director's Website:
http://www.mjstpfilms.com/
Interview with Marie-Josée Saint-Pierre: