Last updated on September 2, 2010
Ed note – we're including this one because the Assistant Director Paul Dutton is a Canadian now living in Calgary, Alberta, and  Chomet's last film 'Les Triplettes de Belleville' was co-produced out of Canada with a myriad of local talent. Flimsy, I know, but we thought people might get upset if we didn't preview this one.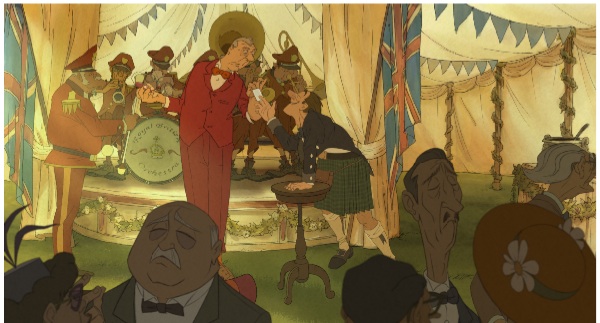 'THE ILLUSIONIST (L'ILLUSIONNISTE)' – Sylvain Chomet, English, 80 min.
"Following on the heels of his brilliant 2003 hit, Les Triplettes de Belleville, director Sylvain Chomet returns to the Festival with The Illusionist, another beautifully drawn and poignant work of animation. Based on an unproduced script by Jacques Tati, the film follows forlorn and timeworn Tatischeff, a shabby but dignified magician trying to find an audience in a world of fifties rock and roll and consumerism. Tatischeff, a relic from the days of spectacle, is forced to book increasingly far-flung shows just to earn a living. His lonely journeys bring him to Edinburgh, where he meets a poor Gaelic lass who naively believes that he is, in fact, magic. Charmingly innocent, the girl sees Tatischeff as the conjurer he wants to be, not the relic everyone thinks he is, and he lovingly buys her new shoes and dresses to replace her tattered rags. Guilelessly, she believes he pulls them out of thin air, so he secretly takes on night shifts at gas stations and department stores to support her and to keep her dream alive.
The animation in The Illusionist is a stunning impressionistic study of muted colours and fog-shrouded Scottish hills, with particular attention paid to the study of light, both natural and incandescent, the calibre of which is rarely seen in contemporary animation. Chomet's gift for hand-drawn figures makes this film a true piece of art. The Tatischeff character is a representation of Tati and reminiscent of Monsieur Hulot. In a coy moment of self-reflexivity, Tatischeff (Tati's real surname) stumbles into a cinema where Mon Oncle, one of Tati's most famous comedies is playing.

The film is almost completely silent, but doesn't feel that way. Instead, Chomet emphasizes the moments between this pair that need no words to explain their feelings. The actions and small gestures of kindness speak volumes. A moving story of the journey from innocence to experience and of a fading way of life, The Illusionist is a loving portrayal of Tati's life and the bond between two dreamers."
Director's Bio:
Sylvain Chomet was born in Maisons-Lafitte, France and graduated from the prestigious comic studio in Angoulême. His first full-length comic book, Secrets of the Dragonfly, appeared in 1986; his other publications include two collaborations with Nicolas de Crécy: Léon-la-Came and Ugly, Poor and Sick. His films include the prize-winning short La Vieille Dame et les pigeons (97), Les Triplettes de Belleville – which screened at the Festival in 2003 and earned Academy Award® nominations for best animated feature and best original song – and The Illusionist (10).
Screening at:
Sunday September 12 – 2:30:00 PM – VISA SCREENING ROOM (ELGIN)'
Sunday September 19 – 6:30:00 PM – Tiff Bell LightBox 2
Official Website:
http://www.lillusionniste-lefilm.com/#/home
Trailer:
Interviews with Sylvain Chomet:
http://news.scotsman.com/movies/Interview-Sylvain-Chomet-director-of.6489653.jp
http://www.guardian.co.uk/film/2010/jun/10/sylvain-chomet-belleville-rendezvous-illusionist
http://www.electricsheepmagazine.co.uk/features/2010/08/01/the-illusionist-interview-with-sylvain-chomet/