Last updated on September 2, 2010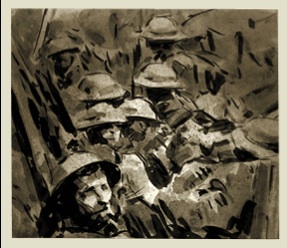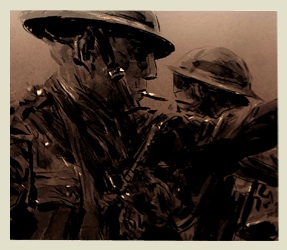 'THE TRENCHES (LA TRANCHÉE)' – Claude Cloutier, Silent, 7 min.
"A young man is preparing to fight at the front. On the battlefield and in the depths of the trenches, the recruits are dreading the order to attack. It's World War I. At the signal, the recruit leaps into a hell of fire and blood where the earth engulfs both the living and the dead. The short animated film The Trenches is an intense cinematic experience, an anti-war statement created through archival images that are masterfully contemporized by filmmaker Claude Cloutier's India ink and brush artistry."
Director's Bio:
Claude Cloutier was born in Montreal. He joined the National Film Board and was invited to direct Le colporteur (88), an adaptation of La Légende des Jean-Guy. His other short films include Overdose (95), La force de l'eau (98), La glace glisse (99), Une minute de science, s.v.p.! (00), Le moteur à explosion (00), Du big bang à mardi matin (00), Isabelle au bois dormant (07) and La Tranchée (10).
Screening at:
Short Cuts Canada: Programme 4
Official Website:
http://films.nfb.ca/the-trenches/
Trailer:

Interview with Claude Cloutier: