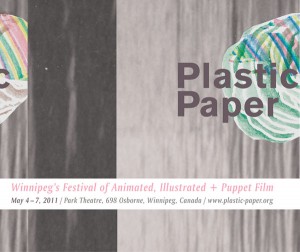 PLASTIC PAPER: WINNIPEG'S FESTIVAL OF ANIMATED, ILLUSTRATED + PUPPET FILM is an international festival that takes place May 4-7, 2011 at the Park Theatre in Winnipeg, Canada. The festival is one component of the year-round organizational activities of the Big Smash! Film Collective. PLASTIC PAPER's programming is a mix of premieres, retrospective screenings, short films and features with special guests, workshops, multi-media presentations, installations and exhibits, artist talks, and gatherings  where the artists and the audience can interact more informally.
PLASTIC PAPER is unique in Winnipeg as an event that serves to explore the animated output of different regions and cultural communities around the world. With an emphasis on self-made work and a careful balance of accessible and experimental animation styles, PLASTIC PAPER's presentation and outreach offerings serve to educate, enlighten and inspire Winnipeg's burgeoning roster of independent animators, who will benefit greatly from the international programming as well as personal interaction with visiting international filmmakers.
Many of the featured works come in a variety of animation styles with sometimes
challenging subject matter; although some films are kid-friendly, PLASTIC PAPER is mainly geared towards adult animation fans as well as animators themselves. The programming is widely eclectic, but shows a preference for independently-financed films, films with an adult sensibility, and films using traditional methods of animation, such as 2-D illustration, cut-outs and stop-motion. The festival also showcases films about animators or illustrators, as well as puppetry films. The connecting thread in the programming is that all selections celebrate the labour-intensity, the obsessiveness, and the unique personalities of these very hands-on crafts.
PLASTIC PAPER is currently accepting submissions for short and feature-length animated films made after Jan. 1, 2010.  THERE IS NO ENTRY FEE. DEADLINE: Feb 1, 2011. For submission form and guidelines see the website at www.plastic-paper.org .