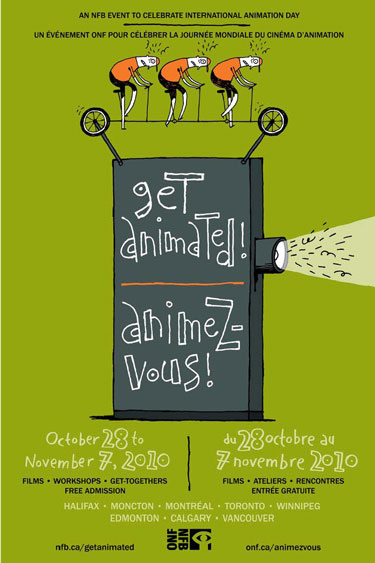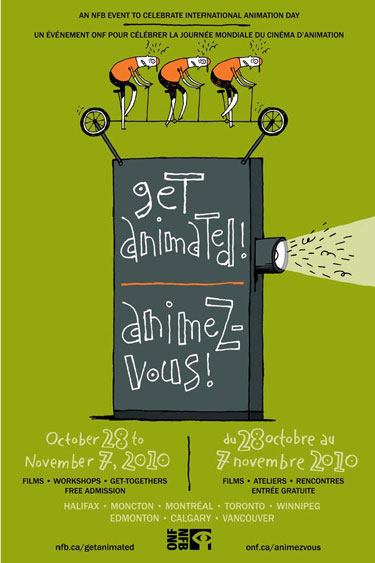 Manoman, there's SO MUCH going on this month! There's the yearly Ottawa International Animation Festival next week, the Stop-Motion Festival in Montréal the week after that, and now this!
oehttp://www.nfb.ca/film/get_animated_2010
From the official website:
"Get Animated! is a Canada-wide series of free screenings, master classes and activities marking International Animation Day. Watch the NFB's latest animated films on the big screen for free and attend special presentations with acclaimed directors from your area.
This year's program:
And meet the directors…
Come see Andrea Dorfman (Flawed) in Halifax, Chris Lavis with Maciek Szczerbowski (Higglety Pigglety Pop! or There Must Be More to Life) and Theodore Ushev with Chris Robinson (Lipsett Diaries) in Montreal, Anita Lebeau (Louise, Big Drive) in Winnipeg, Cam Christiansen (The Real Place) in Calgary and Matthew Talbot-Kelly (The Trembling Veil of Bones) in Vancouver. Plus, view the Hothouse 6 series in 3D in Toronto!"
By way of support for this series, I intend to showcase (or in some cases RE-showcase) the films posted on their main page with some background on the artists every day next week until I leave for OIAF 2010. The workshops the NFB are hosting looks like a great way to get exposed to animation for the average family, so here's your heads up! If you live in Halifax, Montréal, Toronto, Winnipeg, Edmonton Calgary or Vancouver, CHECK IT OUT! Meet the directors! They're starved for human contact after spending YEARS making these films in a studio – shake their hands…their magical, tiny, carpal-tunnel-from-animating-for-months hands.