Last updated on October 4, 2010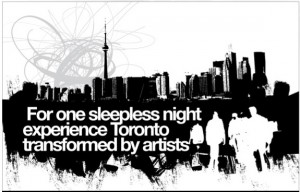 Toronto's 5th annual Nuit Blanche starts tomorrow night, from 6:57 pm (official sunset) till dawn. From the Nuit Blanche site:
"Toronto's annual sunset to sunrise celebration of contemporary art returns to mark a five-year milestone. Discover art in galleries, museums and unexpected places. From building façades and city parks to alleyways and heritage buildings, choose from more than 130 destinations and chart your own path.
Under the direction of 4 curators, 40 temporary public art projects by local, national and international artists have been commissioned within 4 outdoor exhibitions. To encourage involvement by a wide range of Toronto artists – established and emerging – each exhibition includes projects selected by the curators through an Open Call process.
Some works encourage an intimate, evocative encounter with the art, while others will wow you with large-scale interactive spectacle.
Toronto artists, cultural and educational institutions, museums, galleries, and neighbourhoods open their doors all night long for this one evening. Admission is free and many Independent Projects are unique collaborations that offer one-of-a-kind experiences."
As far as animation-related installations go, almost any installation listed as 'multi-media' fits the bill. Every time I've gone in the past, that's been the case. I'd particularly keep an eye out for Geoffrey Shea's 'TRIO' and the 3D CGI projection that will envelop the entirety of Union Station.
If you're a reader who's attending, please post some pics and pop a link in the comments section. I'll try to track down any video footage I can scrounge on Monday.
For a detailed guide to the event, scour NOW's listings.
UPDATE:
Some footage of the Union Station projection:
And the rest of the stuff – can't find Trio, but enjoy the tunes…HA!
And I found this, which is just awesome: