Last updated on October 29, 2010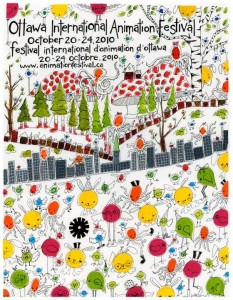 The awards are all handed out, and the crowd has dispersed.  This year's Ottawa International Animation Festival is over.
I didn't get to spend nearly enough time with nearly enough people, but it was great to see all the familiar faces, and thank you to all of those that took the time to say "hi".  Posting my picture seemed to work, at least one young animator approached me cold, saying simply : the internet told me to say hi to you.
I'm supposed to write up my experience here, but I'm back in the studio today with plenty to catch up on.  I promise I will try to put my thoughts down later on.  In the meantime, I'll throw up any links I can find to online reaction and coverage.
Cartoon Brew indulges a grump, and for once, it's not Amid.
The Hollywood Reporter runs through the winners.
Suite 101 has awards coverage as well as reviews of some of the films. (Gravity Was Everywhere Back Then, Good-Bye Mr Christie)
Mark Mayerson reviews Sylvain Chomet's The Illusionist (which he saw in Ottawa).
John Martz from Drawn.ca was there.  Wish I'd met him.  Here are his thoughts.
Nick Cross was there too.  With Marlo Meekins and Rex Hackleberg.
Gary Schwartz made a film at the festival again this year.  Here it is:

Barry Sanders has photos up on Flickr.
Amid shares a few snaps on Cartoon Brew.
More as I find 'em.
And we'd love to hear from the readers who were there, what did you think of this year's show?