'One Big Hapa Family' (2010) – Jeff Chiba Stearns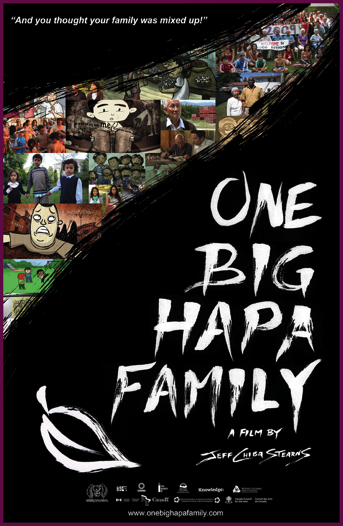 I'm looking forward to seeing this feature-length doc when it comes out my way. I'm a bit disappointed that it won't be showing at this year's Ottawa International Animation Festival for whatever reason, especially in light of the Japanese-focused programming that will be there this year. This film looks like a wonderful example of how animation can be used to drive home difficult points in a disarming way even when couched within a live-action doc.
This film has already made it's World & Canadian Premiere at the Calgary International Film Festival two weekends ago, but the US Premiere will be at the 2010 San Diego Asian Film Festival – Oct. 21 to 28, 2010 and it will screen in Vancouver at the 2010 Vancouver Asian Film Festival – Nov. 4 to 7, 2010.
*An update: A 48 minute broadcast version of the film will be at the 2010 DC Asian Pacific American Film Festival – Oct. 7 to 16, 2010 in Washington DC, screening October 12 at the Goethe Institute and also at the 2010 Toronto Reel Asian Film Festival – Nov. 9 to 14, 2010.
Kelowna, BC-based Jeff Chiba Stearns is probably one of the hardest working indie animators out there and his web-presence is almost ubiquitous. The hub, though, is his main site www.meditatingbunny.com.
Here's the synopsis for 'One Big Hapa Family' as taken from Jeff Chiba Stearns' blog:
"After a realization at a family reunion, half Japanese-Canadian filmmaker, Jeff Chiba Stearns, embarks on a journey of self-discovery to find out why everyone in his Japanese-Canadian family married interracially after his grandparents' generation.
This feature live action and animated documentary explores why almost 100% of all Japanese-Canadians are marrying interracially, the highest out of any other ethnicity in Canada, and how their mixed children perceive their unique multiracial identities.
The stories from four generations of a Japanese-Canadian family come to life through the use of innovative animation techniques created by some of Canada's hottest independent animators, including, Louise Johnson, Ben Meinhardt, Todd Ramsay, Kunal Sen, Jeff Chiba Stearns, and Jonathan Ng. One Big Hapa Family challenges our perceptions of purity and makes us question if mixing is the end of multiculturalism as we know it."
One of the animators, Kunal Sen, has posted the segment that he had animated on Vimeo, and it makes me want to see the full film all the more:
The Ideas Revolutionary blog has an interview with Jeff Chiba Stearns talking about 'One Big Hapa Family' where he discusses what inspired him to make the documentary and how it reflects on Canada's Japanese internment operation during wartime WWII and the subsequent impacts. He also discusses his other award-winning films that he animated on Post-It Notes. Be sure to check it out over HERE.
Here's a YouTube clip of a talk he gave at this year's CIFF, as recorded and posted by Kempton Lam, the writer of the Ideas Revolutionary blog we linked to above: