ANOTHER SIDE TO JAPANESE ANIME EXPOSED AT OTTAWA INTERNATIONAL ANIMATION FESTIVAL
"Time Out of Mind" Special Screening October 20 to 24, 2010
OTTAWA, ON (October 5, 2010)–The Ottawa International Animation Festival (OIAF) is paying tribute to Japan's best animators by showcasing a collection of their famous works.  "Time Out of Mind," which is featuring at the OIAF from October 20 to 24, 2010, is an extensive four-part program that takes a look at some of the best independent Japanese animation films.
Films such as Broken Down Film and Jumping by Astro Boy and comic-legend Osamu Tezuka will be featured in "Time Out of Mind."  A few highlights of the films being featured in "Time Out of Mind" are:
•        Academy-Award nominated, Mt. Head, by Koji Yamamura, a traditional Japanese film about a comical plump man with a "waste-not-want-not" attitude;
•        Award-Winning, The Magic Ballad by Tadanari Okamoto, a story about a magic fox;
•        Demon, by Kihachiro Kawamoto, a film based on the 12th-century Japanese medieval legend Konjaku-monogatari about a pair of hunters; and
•        LOVE by widely known Japanese Indie-Animation godfather, Yoji Kuri, a short, comic experimental cartoon about a woman obsessively chasing after a man.
"These Japanese films, often referred to as "Indie" animation, are high quality works created by independent animators who have successfully built a loyal and international base of followers," said OIAF Artistic Director Chris Robinson.  "We want to honour these independent animators and hope that audiences will gain a deeper appreciation for the brilliancy of their works."
The "Time Out of Mind" four-part program is divided into the following:
•        War and Peace:  The Genius of Osamu Tezuka;
•        You need to be alone sometimes: Private struggles of Japanese Indies (Part 1 & Part 2), a survey of contemporary Indie Japanese films; and
•        Handsoaps and Fools: the films of Atsushi Wada and Kei Oyama.
"Wada's sparsely drawn comic and tragic films feature dimwitted characters drifting through absurd, tedious and repetitive situations; stone faced fools swept into a dark farce they can't comprehend, change or enjoy," said Robinson.  "In Oyama's tales, the faint, fragile and haunting bleached landscapes harbor characters that are, unlike Wada's fools, hyper aware of their existence. They see the beauty, pain and comedy in their everyday life. They exist in the moment, and find joy in simple things."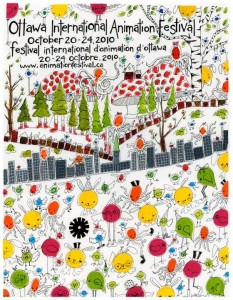 The OIAF "Time Out of Mind" program is presented in collaboration with the Embassy of Japan and the Japan Foundation.  The program is also based on Robinson's latest book, Japanese Animation: Time Out of Mind, which gives a 'stream of consciousness' perspective about Japanese artists and their films.
About Ottawa International Animation Festival
The Ottawa International Animation Festival (OIAF) is one of the world's leading animation events providing screenings, exhibits, workshops and entertainment since 1976.  OIAF is an annual five-day event bringing art and industry together in a vibrant hub.  More than 27,000 film buffs, art lovers, producers, and cartoon fans are expected to attend the OIAF, the largest animation event in North America.  OIAF 2010 is taking place in Ottawa, Ontario, Canada from October 20 to 24.  For more information, please visit: www.animationfestival.ca.