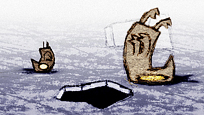 This short animation film takes place in a topsy-turvy land of ice, water and sky. Montreal-based Nicolas Brault is a graphic artist who works in a wide range of styles and techniques. He works as a computer graphic artist, graphic designer, scriptwriter, director and animator. Among other works, he has made four animated shorts that have attracted attention on the international festival circuit.
Antagonia picked up an Honourable Mention award at the 2002 CINEMANIMA festival in Portugal. Islet won the top prize in the Animation category at Vancouver's VIDFEST in 2004. Hungu, his most successful film, took home two international awards in the U.S.
The Circus is his fourth film with the NFB, it's my personal favourite of his, and will be screening across Canada as part of the Get Animated! event happening Thursday, Oct. 28.

oehttp://www.nfb.ca/film/antagonia-en
oehttp://www.nfb.ca/film/the_circus_trailer