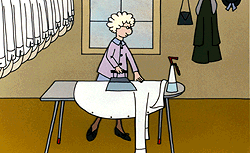 This animated film is from Oscar®-winning Torill Kove. It's a tall tale about her grandmother's life in Oslo, Norway, during World War II. Sharp and whimsical, her story combines her grandmother's tales with historical events and fantasy, showing how a cherished anecdote can come to acquire a mythical status. King Harald of Norway said, "I love the irony of this short."
oehttp://www.nfb.ca/film/my_grandmother_ironed_the_king_shirts
Torill Kove was born and raised in Norway and moved to Canada, where she continued her education and worked in urban planning for several years. Her childhood hobby of drawing and sketching grew into an interest in animation and she returned to school to study animation at Concordia University in Montreal, winning the Kodak Award for her quirky films All You Can Eat, Fallen Angel and Squash and Stretch.
She has written and directed two animated shorts and written scripts for the TV series Dragon and for the animated short film Snails (1997), by Pjotr Sapegin. Torill's films have received numerous international awards. Her first film My Grandmother Ironed The Kings Shirts (1999) was nominated for an Academy Award, and her second film, The Danish Poet (2006), received a Genie and an Oscar in 2007. Torill has illustrated 6 picture books, two of which she also wrote, and she periodically teaches part-time at the Mel Hoppenheim School of Cinema.
Torill is also a juror at this year's OIAF and you can meet her in person at her Masterclass happening  Thursday, October 21, 11:00 am, (that's tomorrow) at the Arts Court – Theatre in Ottawa!