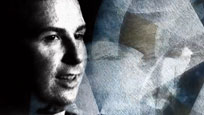 As promised, here's the first of the showcase series for NFB's 'Get Animated' program happening across Canada from Oct. 28 – Nov.7, 2010 that we'll be running all week in an effort to booster it.
I'm not doing anything groundbreaking in the text posted here, just cutting and pasting, but my hope is that you'll look deeper into these filmmakers and their work by following the links after reading a bit of context for the films. Animation in Canada stretches way beyond the commercial world a lot of us work in, and I find it incredibly varied, vibrant and exciting that there are so many films coming out every single year from all provinces.
From Yannick Nézet-Séguin's website: "No Intermission is a tribute to conductor Yannick Nézet-Séguin, recipient of the National Arts Centre Award, by acclaimed Montreal animator Theodore Ushev ( Drux Flux) and producer René Chénier."
oehttp://www.nfb.ca/film/yannick_nezet-seguin_no_intermission
From Theodore Ushev's website, he writes:
"Animator, graphic designer, illustrator and multimedia artist, from Montreal, Quebec, Canada.
I was born in Kjustendil, Bulgaria in 1968 and graduated stage decoration, animation, and make-up at Plovdiv's School of Scenic Arts. I obtained a Master degree in Graphic Design from the National Academy of Arts in Sofia. I worked first as a poster and graphic designer in Sofia, designing posters for many Cultural institutions there, as National Palaca of Culture, many theaters, French institut, and Soros center for the arts.
I moved to Montreal in 1999, following an invitation to work in the "booming" multimedia industry there. Following my work for many commercial sites, mostly for the fashion and retail industry, i created the experimental design and animation site "Mortadellatv", which won more than 100 awards and mentions all over the world.
Totally by chance i became animation filmmaker with for the National Film Board of Canada, with films such as Vertical, The Man Who Waited, Tower Bawher, Tzartitza, and Drux Flux. Lately I created live show multimedia and promo animations for the British band Public Symphony and David Gilmour's "In an Island" album and live tour, and the illustrations for Chris Robinson' book "Ballad of a Thin Man: In Search of Ryan Larkin" (2008).
The "text-image" collaboration with Chris Robinson continued in the animation film "Lipsett diaries", produced by Marc Bertrand at the National Film Board of Canada (2010)
[Yannick – No Intermisssion] was my first experiment with the computer programming language Processing. Basically all of the animation was done using it – crossing the data, and randomizing the data from the sound information and the movements of the hands of Yannick Nezet Seguin."
Casual readers of Cartoon Brew would probably recognize Ushev's unique poster work from the eccentric internet flap the OIAF 09 poster had created. Aesthetes then duke it out HERE, HERE and the overall best result of the flame job resulted in this wonderful blog of animation posters from around the world HERE. Hats off to Marco DeBlois for spinning a positive out of that odd flap.