tonight on Teletoon: Duncebucket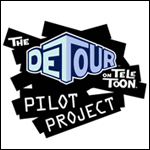 I'm winding down my Ottawa International Animation Festival activities for 2010, and I'm tired, soooooo tired.  But if I'm still awake at 11:30 tonight, I'm going to watch Duncebucket.  Duncebucket was one of a bunch of pilots made about two years ago for an innovative pilot program undertaken at Teletoon.  I sat through the lot of them last year at the festival where they made their debut, then they popped up again in an online rollout.  Well, at long last, they're on the teevee.  Last week they aired the largely forgettable, high-concept "Fugget About It".  I didn't bother spending another 22 minutes on that puppy.  But Duncebucket, while not my pick of the litter, was the clear winner in the laugh department in the theatre last year.  I'm curious to see how it holds up.
Ok, to recap.
Tired.
Duncebucket.
Funny.
11:30 tonight on Teletoon.
Tired.
m